Connect with your social network account
Forum Information
You will earn 1.5 pts. per new post (reply) in this forum.

**Registered members may reply to any topic in this forum**


Posts: 17274
Joined: Mon Oct 30, 2017 5:16 pm
Contact:
Status: Offline
We Will Not Comply RALLY in Denver CO Saturday, Dec 7th, 2019
Denver, Colorado – 
-(
AmmoLand.com
)- Join with your fellow Second Amendment supporters on the West Steps of the Colorado State Capitol to declare We Will Not Comply in advance of Colorado's unconstitutional and dangerous "Red Flag" ERPO law going into effect. The law will be implemented on January 1st, 2020. Rally for our Rights founder, Lesley Hollywood, has teamed up with Lauren Boebert, "Hell No, Beto" mom and owner of Shooter's Grill in Rifle, CO as well as America's Mom, Sherrona B, to bring this rally to the citizens of Colorado. There will be multiple speakers. Bring your flags and signs focused on the right to keep and bear arms! We will also be hosting a coat drive at this event, so bring an extra coat, gloves, scarf or hat. The donations will be given to various charities in need around the state. When:
Saturday, Dec 7th
11am-1pm Where:
Colorado State Capitol
200 W Colfax Ave
Denver, CO 80203 COME DOWN RAIN OR SHINE! PARKING IS EASY ON THE WEEKENDS! Learn more about Colorado's Red Flag Extreme Risk Protection Order law that will go into effect Jan 1st, 2020 at this link:
www.rallyforourrights.com/understanding ... r-erpo-law
Help Rally for our Rights continue to grow! – CLICK HERE TO MAKE A DONATION Debunking 60 Minutes Segment On Colorado's Red Flag Law
Debunking 60 Minutes Segment On Colorado's Red Flag LawCBS recently aired a 60 Minutes segment on Colorado's "Red Flag" ERPO law and the debate surrounding it. As you can imagine, it needs debunking. You can watch the full segment at the
CBS website here
. It is 14 minutes long and free to watch. A big thank you to Weld County Sheriff Steve Reams for being a much-needed part of the conversation. Here's our take on the episode: 1.) They begin by stating that there have been 366 mass shootings this year. There have not been and we've already debunked that. Learn more:
www.rallyforourrights.com/we-are-being- ... ings-again
2.) California passed their Red Flag law in 2014, not 2016. Now, this is a minor discrepancy, but something 60 Minutes absolutely should have gotten correct. If they are going to flub on such a simple fact, what else will they get wrong? Do they not know how to use Google? 3.) Connecticut had a Red Flag law in place when Sandy Hook happened. Theirs was enacted in 1999. Sandy Hook happened in 2012 and was NOT the catalyst to write the law as the segment implies. 4.) Law enforcement is not the only entity who can petition the courts. Spouses, ex-spouses, roommates, former roommates, any relative or step-relative, a Tinder date gone wrong, or someone you had an affair with are all also people who can petition the courts for a Red Flag ERPO. If you don't fall in to the insanely broad range of people the law defines as "family members", you can then simply go to a law enforcement officer and have them file the petition for you. 5.) The temporary orders are granted based on a preponderance of evidence – even when law enforcement files the petition. Preponderance quite literally means the more convincing evidence, yet the person being accused is not present at the hearing and doesn't know it's taking place, therefore cannot present any evidence at all. The accuser will ALWAYS present more convincing evidence. How will any of these ever be denied? 5.) It's despicable how Sheriff Tony Spurlock said "this is a tool to take away guns" then turns around and says "this isn't about taking away guns, it's about getting people the help they need" when there is absolutely NO mental health component to the Colorado law. 6.) Watching the Zackari Parrish footage has us wondering how that is any different than serving a Red Flag warrant? How would the outcome change? Also, if they just left him alone that night, what would have happened? Why did Spurlock send his deputies into what he knew could be a gunfight with soft body armor? 7.) Sheriff Steve Reams was thoughtful, reasonable and great in pointing out that we need to be helping people, not simply removing the tool that could do harm. We are thankful for him. 8.) They omit the fact that more than 50 of Colorado's 64 sheriffs oppose the law as written, as does the Denver Police Union and the Aurora Police Union. More than half of Colorado's counties have passed Second Amendment Sanctuary resolutions. Read the article on our blog here:
www.rallyforourrights.com/debunking-cbs ... g-erpo-law
Stay connected about legislation and other calls to action by following us on social media. Get connected. Check out our full calendar here:
www.rallyforourrights.com/events
As always, thank you for your support! In Freedom, Lesley Hollywood
Rally for our Rights
[email protected]
www.rallyforourrights.com
Like on Facebook: facebook.com/rallyforourrights
Connect in the Facebook group: facebook.com/groups/203519926919607
Follow on Twitter: twitter.com/RallyRights
Follow on Instagram: instagram.com/rallyforourrights
Subscribe on YouTube: youtube.com/rallyforourrights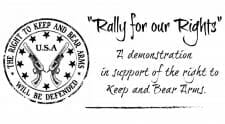 About Rally for our Rights
Rally for our Rights is a non-partisan gun rights advocacy organization that was founded in early 2018. It has quickly become Colorado's most active Second Amendment group with a focus on frontline activism and community outreach.
www.rallyforourrights.com
---