Connect with your social network account
Forum Information
You will earn 1.5 pts. per new post (reply) in this forum.

**Registered members may reply to any topic in this forum**


Posts: 17274
Joined: Mon Oct 30, 2017 5:16 pm
Contact:
Status: Offline
Terril reviews the Henry's Single Shot Rifle in 243 WIN.
https://www.youtube.com/embed/jGNpwkkItFo
USA –
-(
AmmoLand.com
)- Henry Repeating Arms has made quite a name for themselves with their lever-action rifles and shotguns in calibers from the 22 LR all the way up to the 45-70 and 410 bore. But it is their new line of Single Shot break-action rifles and shotguns that have me enamored. The break-action single-shot is a timeless design. One-shot at a time. Push a lever and the gun breaks open for loading and unloading. Simple, inexpensive, reliable. I spent most of my hunting years toting around an H&R Handi Rifle in 270 Winchester and an old Winchester Model 37 in 16 gauge–both single-shots. that had me in meat on more than one occasion. Break-action guns were one of many good competing designs when I was growing up in the 1990s and early 2000s, but in recent years, the type has fallen by the wayside. Bolt-action and semi-automatic rifles are about as inexpensive as they have ever been, edging out the thriftiness of the single-shot rifle.  This, among other factors, caused the biggest maker of single-shots in the US–H&R–to cease production in 2015. There was still a niche market for the single shot that was filled by the likes of imported Rossis, Ubertis, and most recently Chinese-made Savages. I am lukewarm toward Henry rifles. What I can say is that they rescued the all-American lever gun from niche status when Winchester and Marlin began to peter out. In a similar fashion, their introduction of a single-shot rifle and shotgun has rekindled interest in a platform that is supposed to be on its way out.  I field-tested their Single Shot 410 shotgun and thought it to be a worthy–if not better– the successor to the H&Rs. I've had no experience with their rifle line which currently runs in 5.56 NATO, 243 Winchester, 30-30 Winchester, 308 Winchester, 45-70 Gov't, 357 Magnum, and 44 Magnum. I wanted a new experience, so I picked one chambered in 243–a round I have seen hunting results with, but never personally pulled the trigger on.
Henry's Single Shot Rifle in 243 WINHenry's Single Shot Rifle in 243 WIN Out of the box, I could already see myself trekking through the undergrowth with one of these rifles on my back. It has a touch of class mixed with the rugged simplicity of that break-action design. The first thing that caught my attention was the cut-checkered walnut buttstock and fore-end. You won't get that out of a gun that can be had for three bills and if Henry does anything the best, it is their oiled walnut stocks. The buttstock itself has an adult length of pull of fourteen inches and it is topped with a discreetly placed rubber buttpad. The fore-end is screwed into the barrel assembly and sandwiches nicely against the matte-blue steel receiver. The stocks host a pair of steel sling studs, a virtual requirement on a hunting gun.
Henry Single Shot Rifle in 243 WINThe tapered round barrel is a handy 22 inches long and finished in a rich, polished blue. To top it off, the rifle comes equipped a pair of iron sights–a beaded post front sight and a folding leaf rear sight. The barrel is tapped and drilled for a scope mount, should you chose to go with an optic. Operationally, the Henry Single Shot is simple to operate and understand. At the top of the receiver is a large, checkered lever. This "dog tail" wags both ways when you push it with your thumb. This moves the locking lug in the receiver and unhinges the barrel, exposing the chamber to be loaded or unloaded. The rifle has a rebounding hammer that cannot touch the firing pin unless the trigger is depressed. Otherwise, there is no manual safety. Working the rifle, I found the action to be smooth to hinge and lock. Gravity does most of the work to unhinge the barrel once the lever was tripped. I noticed when loading in some dummy ammunition that the rifle has no ejector like the shotguns. Instead, the Henry rifle uses an extractor. When the barrel is unhinged, the extractor will cam outward, lifting the ammunition–or empty case–out of the chamber for you to pluck out with your finger. My only sore spot with no rounds downrange was the trigger pull. It pulled at about 8.5 lbs. on my Lyman scale. That was much heavier than I expected, considering it felt much lighter when dry-firing the gun. Nonetheless, I wrangled up my supplies and set out to see if the Single Shot measures up. Loadin' and Shootin' the Henry's Single Shot Rifle in 243 WIN I started shooting the Henry from a bench rest at paper targets from a distance of fifty yards to get on top of the iron sights. Loading is a piece of cake. Move the "dog tail" to one side or the other with your thumb and let the barrel break open from the action. The extractor pops out and you can now shove a round directly into the chamber. Close the gun back up and all you need to do is cock the hammer and pull the trigger to fire the gun. Break the gun open and the extractor lifts the empty brass from the chamber for you to pluck it out with your fingers for reloading. Easy and you have to take your time on target with one round at a time. The Henry definitely makes you slow down and appreciate the shots you take, but depending on the ammunition, my groups were a mixed bag. The iron sights on the Single Shot are a little more refined than some of their other rifles; the front post is thinner than what I have encountered on many of their 22 rifles and the rear foldable notch make for sights that are easy to pick up but not so large that they obscure all but the smallest targets. But the stiff trigger pull worked against me. There was no creep or slack as I took up the trigger, but a firm wall that my fingers soon grew tired of pulling against, group after group. Off of a rest, I was able to put five rounds into groups that ranged between four and nine inches. Most loads I tried, particularly the PPU 100 grain soft-point and Hornady Superformance 80 grain VMax, performed the best. Winchester Super X 95 grain soft-points left me down, turning in a consistent seven to nine-inch groupings. Clearly, it was time to give the rifle some glass and get serious. Passing the Glass The Henry comes tapped and drilled for a Weaver 82 base for mounting a riflescope.  The rifle does not come with a base, but this type is fairly easy to find, even at some big box stores. I slapped it on, screwed it down, and installed my usual test scope, a Truglo 3-9×32. With this setup, I started out at fifty yards from a rest. My five-shot groups came out to be a duplicate of my results with the iron sights, except the groups shrunk considerably.
Brand                                          Load                                     Five-Shot Group (in.)
Winchester Super-X                    95 grain soft-point                   6.0 Federal Fusion                            95 grain soft-point                   3.6 PPU                                            100 grain soft-point                 2.0 Hornady Superformance            80 grain V-Max                        2.0 Hornady Superformance            58 grain V-Max                        2.4
Five rounds out of the Henry Single Shot rifle at fifty yards.Fifty yards is no test for any rifle, so I took the PPU and Hornady 80 grain loadings out to one hundred yards on paper and on my eight-inch steel plate hanging at two hundred. I was able to turn in groups that were a shade under four inches with both loads but no smaller. This sort of accuracy would frustrate a varminter aiming for tiny targets, but I would feel comfortable for a body shot on a whitetail or a full-grown sow.
Shooting the Henry Single Shot rifle at fifty yards.To burn up the rest of my ammunition, I cranked the rest of my pills out to my plate sitting at two hundred yards. Taking my time off my impromptu rest, I could lob them in easily. But the trigger pull definitely limited my ability after a few shots downrange. You can tough it out, but if the trigger pull is heavier than the rifle itself, it is going to move around some. The Bottom Line The Henry Single Shot really takes a stab at two audiences at different ends of the spectrum: the expert who feels comfortable and challenged by having only one shot and the thrifty huntsman who doesn't feel the need for anything else, especially if the person that is to be hunting is a child. In fact, Henry markets their single shot 243 with a shorter stock for child use. For us adults, the Henry has the aestetics and function for the expert and the simplicity that a novice can't foul up. Henry has something special in their new single-shot line and it strikes at something new and dear to me, personally. The gun functioned reliably with nary a failure to extract or fire or feed, as you should expect from a single-shot rifle. The quality level is head and shoulders above its competition at the price level, both existing and defunct. The only real bear is the trigger pull, which seems to be a common complaint from what I could find. It did limit my ability to get sub-MOA groups, but the accuracy is more than useful. That is especially frustrating, given that Henry rifles and 243 Winchester as a whole tend to be tack drivers. With that said, if you handled one and got a good feel for it, I wouldn't pass it up.
Henry Single Shot Rifle in 243 Winchester: Gun Review
About Terril Hebert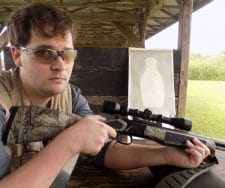 Terril Hebert is a firearm writer native to south Louisiana. Under his motto-Guns, Never Politics-he tackles firearm and reloading topics both in print and on his Mark3smle YouTube channel, where he got his start. Terril has a soft spot for ballistics testing, pocket pistols, and French rifles. When he is not burning ammo, he is indulging his unhealthy wildlife photography obsession or working on his latest novel. Scourge of God, published in 2017. See more from Terril on youtube under Mark3smle
---