Connect with your social network account
Forum Information
You will earn 1.5 pts. per new post (reply) in this forum.

**Registered members may reply to any topic in this forum**


Posts: 17274
Joined: Mon Oct 30, 2017 5:16 pm
Contact:
Status: Offline
Commander-in-Chief Donald Trump is in a position to do more than pray. And he did promise he would end military "gun-free zones." (
NAS Pensacola/Facebook
)
U.S.A. –
-(
Ammoland.com
)-Pensacola Naval Air Station shooter Mohammed Saeed Alshamrani "acquired his gun locally,"
Heavy.com's "5 Fast Facts"
profile reports. "The New York Times reported that the gunman used a 'locally purchased Glock 45 9-millimeter handgun with an extended magazine' and had more magazines in his possession," the article explains. "The shooter was involved in an Air Force military sales training course and the Saudi government was paying for it, according to The Associated Press." It's not clear that the second sentence has anything to do with the first. The whole paragraph is confusing because it does not say who "locally purchased" it.
Per federal law
: "An alien admitted to the United States under a nonimmigrant visa is prohibited from shipping, transporting, receiving, or possessing a firearm or ammunition unless the alien falls within one of the exceptions provided in 18 U.S.C. 922(y)(2), such as: a valid hunting license or permit, admitted for lawful hunting or sporting purposes, certain official representatives of a foreign government, or a foreign law enforcement officer of a friendly foreign government entering the United States on official law enforcement business." The Pensacola News Journal
brought us a bit closer
: "A foreign national is allowed to purchase a gun in the state of Florida if a certain set of criteria is met, he said. But [Escambia County Sheriff David Morgan] said he could not release information as to whether that is how the gunman was able to get his gun, referring those questions to the FBI, which is leading the investigation into the base shooting." NBC Investigates reporter Andrew Blankstein tweeted
the most definitive explanation
: "1st
[email protected]
: While non-citizens are normally prohibited from buying handguns, Alshamrani used a LOOPHOLE to legally purchase his weapon from a dealer in Pensacola. Non-citizens w/ hunting licenses can buy firearms, and the shooter apparently had such a license, sources said." It's always a "loophole" with these people. The point is, if he went through a dealer, Alshamrani went through a background check. And he went through more than that,
according to the Associated Press
: "Foreign nationals participating in U.S. training go through a vetting process. The Pentagon said it includes screening for any illicit drug activities, support for terrorist organizations, corruption and criminal conduct. Those who fail to pass the approval process are not issued international travel orders." The same would apply to Alshamrani's "fellow Saudi military students," who,
per the New York Post
, "watched mass shooting videos" at a "dinner party" with the killer. "One of the students at the dinner party recorded video outside the classroom during Alshamrani's Friday morning rampage," the Post reported. "The two others watched from a car…" It's curious that while "universal background checks" are one of the key demands of the Democrat-dominated citizen disarmament lobby, they reverse themselves when it comes to letting foreign nationals of unknown ideologies into this country, particularly when it comes to illegals. Instead, they demand open borders, amnesty and admitting and embedding "refugees" in communities throughout the Republic, most for whom no checks are possible because such records either don't exist or are unobtainable. When President Trump imposed
travel restrictions by executive order
affecting Muslim countries associated with radical Islam, howls of xenophobia and racism were followed with legal action. Significantly, Republicans Lindsey Graham, Marco Rubio, and Jeb Bush joined in the condemnation. That makes
Graham's call to suspend the foreign training program
seem more than a bit bipolar, but this is politics after all. Have no doubt that groups like the Council on American-Islamic Relations and their Democrat promoters will finally say something — loudly — when they see an opportunity to exploit "Islamophobia (a search for
"Pensacola" on the CAIR site
and
Facebook page
yields nothing relevant at this writing). Meanwhile, the question of what can and will be done remains, with the AP report noting: "[Defense Secretary Mark] Esper said he is 'considering several steps to ensure the security of our military installations and the safety of our service members and their families.' He provided no details." Then-candidate Donald Trump had some relevant "details" he was willing to share
back when he was courting gun owners for votes
: "[Gun Free Zones] No, not optional. As Commander-in-Chief, I would mandate that soldiers remain armed and on alert at our military bases. President Clinton never should have passed a ban on soldiers being able to protect themselves on bases. America's Armed Forces will be armed. They will be able to defend themselves against terrorists. Our brave soldiers should not be at risk because of policy created by civilian leadership. Political correctness has no place in this debate." What's stopping him?
About David Codrea: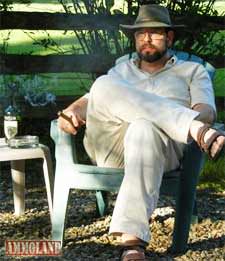 David Codrea is the winner of multiple journalist awards for investigating/defending the RKBA and a long-time gun owner rights advocate who defiantly challenges the folly of citizen disarmament. He blogs at "
The War on Guns: Notes from the Resistance
," is a regularly featured contributor to
Firearms News
, and posts on Twitter:
@dcodrea
and
Facebook
.
---