Connect with your social network account
Forum Information
You will earn 1.5 pts. per new post (reply) in this forum.

**Registered members may reply to any topic in this forum**


Posts: 17274
Joined: Mon Oct 30, 2017 5:16 pm
Contact:
Status: Offline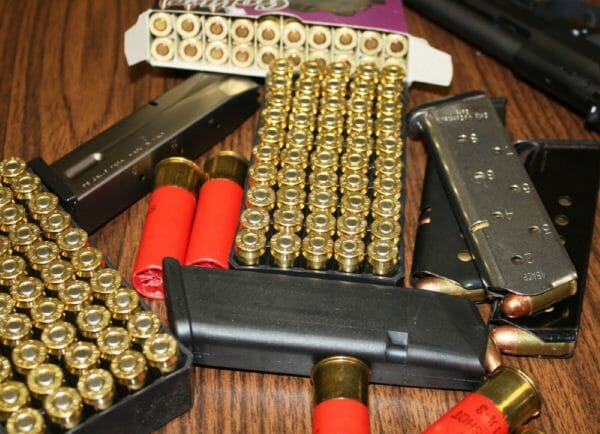 New gun-control proposals by Washington State Attorney General Bob Ferguson include more restrictions on ammunition sales and magazine capacity. (Dave Workman photo)
Washington –
-(
AmmoLand.com
)- Flanked by representatives from several Seattle-based gun prohibition lobbying groups along with representatives from the office of Gov. Jay Inslee, Washington State Attorney General Bob Ferguson
announced sweeping gun control
proposals Thursday that include magazine capacity limits, a ban on the sale of so-called "assault weapons," background check requirements for ammunition sales and more. Ferguson, a Democrat, is famous for having sued the Trump administration nearly 50 times since President Donald Trump took office in 2017. Also appearing with Ferguson, according to his office, were Democrat state Sens. David Frockt and Patty Kuderer, and state Reps. Strom Peterson and Javier Valdez. They joined representatives from the Alliance for Gun Responsibility, Grandmothers Against Gun Violence and Washington Ceasefire. Ferguson is portraying his legislative wish list as a strategy to "combat mass shootings in Washington State." In 2014, the Alliance for Gun Responsibility bankrolled
Initiative 594
, requiring background checks for all firearms transfers, with a few narrow exceptions. Less than two years later, in 2016, a 19-year-old killer passed a background check when he purchased a semi-auto rifle and subsequently opened fire at a teen party in Mukilteo, killing three former classmates and wounding a fourth. Three months later, another 19-year-old took a semi-auto rimfire rifle from his stepfather without permission and opened fire at the Cascade Mall in Burlington, killing five shoppers. He bypassed a background check by taking the gun from home. The proposals are already getting criticism, including
comments
from John McKay at KFLD, NewsTalk 870. "Not to be cynical," McKay said in a brief report online, "but given the previous attempts to pile on more gun restrictions, controls and anti-2nd Amendment legislation, we're fully expecting a new round of handcuffs–all while not really addressing the root issues of such problems." Last year, again with backing from the Seattle gun control lobby, voters passed
Initiative 1639
, which included a definition of a so-called "semiautomatic assault rifle" that applies literally to every self-loading rifle ever manufactured, including .22-caliber rimfire sporting rifles that have been around for a century. Now, the
prediction from Evergreen State gun rights
activists appears to be coming true: invent a definition and then ban the guns as defined. Even Spokane County Sheriff Ozzie Knezovich told reporters earlier this year the only reason the definition was included in I-1639 was to make it possible for anti-gunners to later push for a complete ban. Under Ferguson's proposed ammunition regulations, violent felons who can't legally buy guns would also be prohibited from buying or possessing ammunition. It would be illegal for a retailer to sell ammunition to anyone he knew was prohibited from legally buying or owning firearms. Under the ammunition proposal, background checks for all ammo sales would be required starting "30 days after the U.S. Department of Justice changes its rules and authorizes dealers to use the national instant criminal background check system, known as NICS, to initiate a check for a transfer of ammunition." Ammunition dealers would be required to obtain a state firearms license for $125. In Ferguson's news release, there were references to mass shootings in Dayton, Ohio and El Paso, Texas. The release noted that nine states restrict sales of so-called "high capacity magazines." Washington is not one of them. The attorney general also alluded to data from the anti-gun Violence Policy Center that claimed "high-capacity magazines have been involved in at least 74 mass shootings" since 1980, a period of nearly 40 years. When you call normal capacity gun magazines "high-capacity" that is and expected result.
Washington Rep. Amy WalenThe ammunition legislation is reportedly sponsored by
Rep. Amy Walen, a Kirkland Democrat.
"Ammunition safety is a critical component of firearm safety that we can't forget about," Walen said in the Ferguson news release. "We can't keep our communities safe if dangerous individuals who are prohibited from owning guns can still keep ammunition. It's past time for Washington to catch up with states like Idaho, Louisiana, and Texas and prevent dangerous individuals from purchasing ammunition." Evergreen State gun owners have been in the crosshairs of the gun prohibition lobby for several years. Backed by a handful of wealthy supporters, gun control lobbyists have been successful with three initiative measures over the past five years, outspending grassroots rights activists sometimes 20-to-1, and that includes reported expenditures by the National Rifle Association and local Second Amendment groups. Many in the grassroots gun rights community are currently campaigning to repeal I-1639 with a signature-gathering effort on their own measure, Initiative 1094, an initiative to the legislature. They need to gather 300,000 signatures by Christmas in order to validate their initiative. The NRA and Second Amendment Foundation are
challenging provisions of I-1639
in federal court in Tacoma. That case is currently in the discovery phase.
About Dave Workman
Dave Workman is a senior editor at 
TheGunMag.com
 and Liberty Park Press, 
author of multiple books
 on the Right to Keep & Bear Arms and formerly an NRA-certified firearms instructor.
---