Connect with your social network account
Forum Information
You will earn 1.5 pts. per new post (reply) in this forum.

**Registered members may reply to any topic in this forum**


Posts: 17274
Joined: Mon Oct 30, 2017 5:16 pm
Contact:
Status: Offline
Disclosure: Some of the links below are affiliate links, meaning at no additional cost to you, Ammoland will earn a commission if you click through and make a purchase.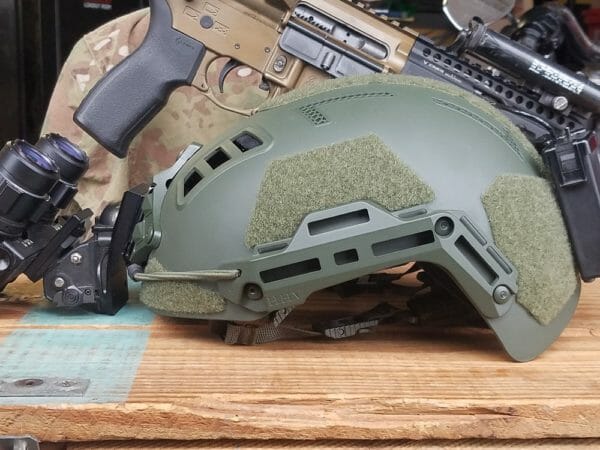 Hard Head Veterans ATE Bump Helmet – Quick Hit
U.S.A.
 –
-(Ammoland.com)-
  Hard Head Veterans (HHV) has released the third helmet into their lineup.  First came their MICH and ATE (Above The Ear cut) ballistic helmets, now out is their new
ATE Bump
(non-ballistic) helmet.  Let's take a look at the features and functions of such a brain bucket, then cover field use.
Hard Head Veterans ATE Bump Helmet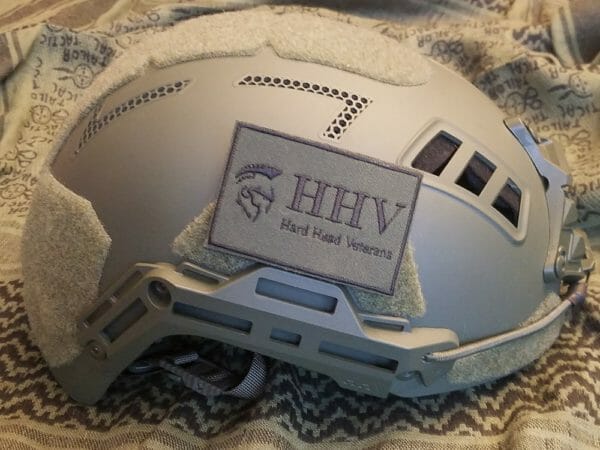 Hard Head Veterans ATE Bump Helmet
Tech specs as provided by HHV (edited by myself for brevity and formatting)
Tactical Helmet ATE Bump is the non-ballistic version of our ATE Ballistic helmet.
Lightweight and modular for Tactical Helmet applications, Search and Rescue (SAR), and Recreational Sports.
Weight: 1.4 lbs
Manufactured from a Polycarbonate blend, the helmet offers blunt impact protection that far exceeds impact requirements not only for EN 1385: 2012, but also for AR/PD 10-02.
MLOK accessory rails (for lights, cameras and ear protection headset adapters)
Two-layer padding system:  Designed to protect you from impacts and provide you with optimal comfort as well. We include two sizes of different thickness comfort pads, in addition to the Initial Impact base layer.
Adaptive 3 Hole Shroud:  Our A3S shroud is manufactured out of aircraft grade aluminum and weighs less than the majority of shrouds on the market. Each helmet includes bungees to help with night vision goggle wobble, and these conveniently connect to the bottom of our A3S shroud when not in use. This can also be used to lanyard in night vision goggles and other gear. It's designed to be compatible with most standardized NVG mounts from Wilcox to Norotos.
Ok, so we have a non-ballistic helmet in the modern (post-MICH) design style.  The ATE cut denotes a higher arc on the side, allowing for headsets (comms/ear pro) to be worn far more easily and comfortably.  While there's a trade-off in a Bump helmet where you lose advanced protection, you're gaining cost efficiency, weight reduction and thermal ventilation.  You're still getting a base level of protection from assorted dangers scurrying towards your noggin.  One of the other major benefits of a helmet is that they open the door to wearing night vision.  With respects to products like the Crye Nightcap and the infamous military issued "Skullcrusher", helmets simply work better.  More on this later. There's a little of controversy regarding HHV's helmets as they are manufactured in China.  All quality control happens on this side of the ocean though, and their ballistic helmets are batch tested by an independent third party laboratory (NTS) who tests to NIJ standards.  Obviously there's less room for concern when you're not asking your helmet to stop bullets, just to provide more protection than a wool cap. Maximum information for each consumer to make informed choices is the best route, and HHV has always been up front regarding their process. Setting up the HHV Bump lid is easy.  The Initial Impact layer comes pre-installed, so it's up to your discretion how to install the comfort layer.  I held a couple of comfort pads in place while I tried the helmet on in a couple different configurations.  Once I figured out what worked, I applied the included velcro sticker pads to the Initial Impact layer and arranged  the comfort pads.  Total time, around 5 minutes.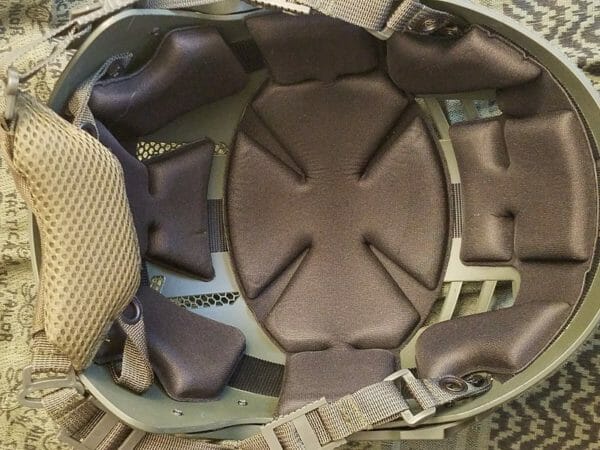 Impact layer
Impact AND Comfort layersI'm impressed by the build quality of the ATE Bump.  The shroud and rails are solid, with no flex or wobble.  When the NVG mount is installed, it's fairly snug with only the slightest movement.  The pads are well made, with the Initial Impact layer having firmer pads and the comfort layer being softer. The chinstrap is often a weak point in regards to user comfort.  HHV's chinstrap in simple and effective, my favorite combo.  To adjust length, just reach to one of the four locks, unlatch the friction lock, slide the lock to where you want it and re-engage.  This is faster, more secure and has 100% less dangly ends than the MICH I'm used to.  The chin buckle is of a design that's new to me, and one that deserves its own catchy name in the features section.  If you place one end of the male side into the female side, a magnet snaps them together.  Any force applied to the straps pulls fruitlessly against the length of the combined ends.  A quick tug on the release strap pulls the two apart, releasing them.  Not only can I apply or release the chinstrap with one hand, it's tougher to snag beard hairs or skin in this buckle.  Nice! Time to revisit night vision goggle (NVG) use.  With very few exceptions, NVG's are worn head-mounted.  Whether the intended use is for being able to move at night, shoot at night, or both, head-mounted NVG's offer a massive advantage over handheld or weapon-mounted NVG's.  A helmet-mounted setup consists of 4 parts: the night vision device itself, the mount, the shroud on the front of the helmet and the helmet itself.  HHV's A3S shroud is compatible with nearly every major type of NVG mount out there.  This includes the mount for my ANVIS-9's, an aviation set of NVG goggles. The
ANVIS-9
makes a great all-purpose NVG set.  I've used it for nighttime helicopter flights, nocturnal predator control and even navigating a commercial fishing vessel after cascading failures in the electrical system.  The electronics are great, so the weak link has always been the helmet.  An aging MICH has led to continued frustration, so I'm excited to see how the HHV ATE Bump helmet fares as a replacement.  Everything looks and feels right, so I'm off to see the world through green eyes.  I'll check back in with an update after I've had a chance to log more hours in the Hard Head Veterans Tactical Helmet ATE Bump, which runs
$199
and is offered in six colors/patterns.  Stay tuned!
About Rex Nanorum
Rex Nanorum is an Alaskan Expatriate living in Oregon with his wife and kids. Growing up on commercial fishing vessels, he found his next adventure with the 2nd Bn, 75th Ranger Regt. After 5 tours to Afghanistan and Iraq, he adventured about the west coast becoming a commercial fisheries and salvage SCUBA diver, rated helicopter pilot instructor (CFII) and personal trainer, before becoming a gear reviewer and writer." –
Rex Nanorum
@Rexnanorum
---