Connect with your social network account
Forum Information
You will earn 1.5 pts. per new post (reply) in this forum.

**Registered members may reply to any topic in this forum**


Posts: 17274
Joined: Mon Oct 30, 2017 5:16 pm
Contact:
Status: Offline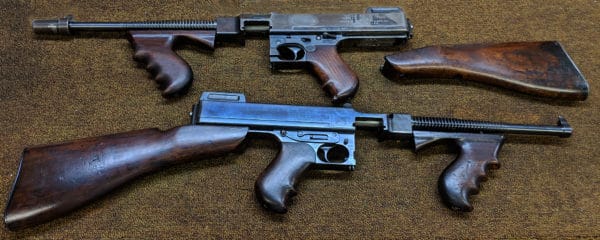 The two Thompsons used in the St. Valentine's Day Massacre. (T. Logan Metesh photo)
Newport, KY –
 -(
AmmoLand.com
)- Born on December 31, 1860, John T. Thompson was the man who made "The Gun That Made the '20s Roar" – the Tommy Gun. He was, however, an accomplished military man long before he was a gun designer. A Class of 1882 graduate of the United States Military Academy, Thompson went on to become the youngest colonel in the US Army.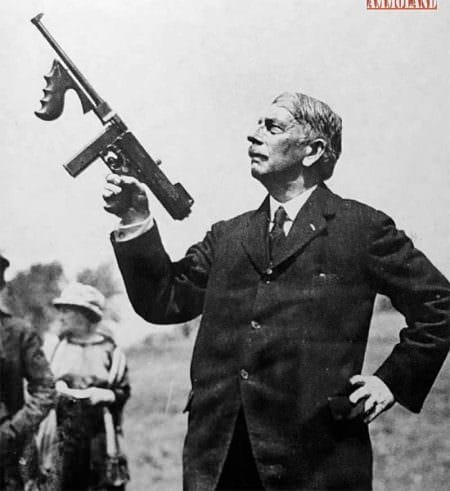 General John T. Thompson with an early working Thompson machine gunThe most famous use of Gatling guns in battle was by Lt. John Henry Parker during the Spanish-American War's battle of San Juan Hill. During that battle, Teddy Roosevelt and his fellow Rough Riders were heard to have exclaimed, "It's the Gatlings, men, our Gatlings!" Thompson was responsible for those guns being made available to Parker. In his capacity as Chief Ordnance Officer, he coordinated the assemblage of Gatling guns and ammunition and saw to their delivery to Parker in Cuba. John Thompson's keen interest in arms development was complemented by duty at both the Springfield and Rock Island Arsenals. He supervised the development of the M1903 bolt-action rifle, which was the primary US longarm used during World War I. Thompson also sat on the board that determined the fate of the US Pistol Trials of 1911. He was the officer who wrote to Colt on March 29, 1911, informing the company that their pistol had won the military trials and would be the new standard sidearm for US troops. It was, one could imagine, likely that he saw that letter as just another piece of paperwork; it would become, over time, one of the most iconic "pieces of paperwork" in US military history. With that letter and an order for 30,262 pistols, he ushered in an era that would last 74 years, making the Colt M1911 semi-automatic pistol the longest-serving US sidearm in American history. When Thompson retired from military life in November 1914, he went right back to work, this time as the Chief Engineer for Remington. In that capacity, he oversaw the design and building of the Eddystone Plant, which was the largest small arms factory in the world. Under his direction, Enfield rifles were manufactured for the British, and Mosin-Nagant rifles were made for the Russians. All the while, he kept working on his design for an automatic weapon. By 1916, he had formed Auto-Ordnance Company and was continuing to work on what would become the Tommy Gun. When the US entered World War I in April 1917, Thompson went back to the military as the Director of Arsenals with the rank of Brigadier General. When the war ended in November 1918, he retired from the military again and focused on his arms development.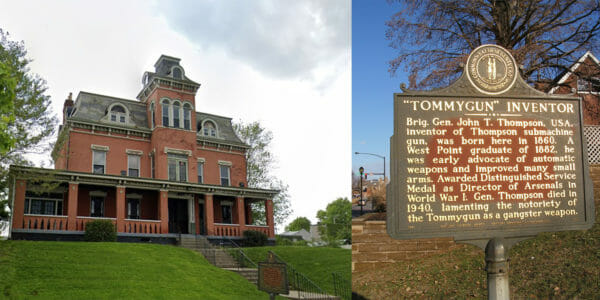 John T. Thompson's house and historic marker in Newport, KY.Finally, in 1921, his submachine gun went into production. It wouldn't take long for it to gain the nickname, "Tommy Gun." Over time, it would become one of the most iconic submachine guns ever produced. Military units across the world would carry them for decades; law enforcement departments would use them against bank robbers; and, most notably, gangsters would use them during the crime-laden Great Depression. On June 21, 1940, Brigadier General John Taliaferro Thompson died at the age of 79. It is said that he lamented the link between his submachine gun and gangsters, but had he lived just six more months, he would have seen the start of US involvement in World War II. The submachine gun bearing his name was once again ordered in large quantities and pressed into service overseas. Men armed with Tommy Guns and M1911s helped win World War II, and that's something I'm sure Thompson would be proud to have as part of his legacy.
About Logan Metesh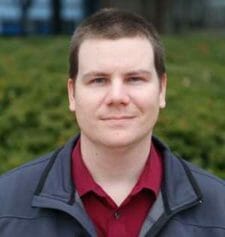 Logan Metesh is a historian with a focus on firearms history and development. He runs 
High Caliber History LLC
 and has more than a decade of experience working for the Smithsonian Institution, the National Park Service, and the NRA Museums. His ability to present history and research in an engaging manner has made him a sought after consultant, writer, and museum professional. The ease with which he can recall obscure historical facts and figures makes him very good at Jeopardy!, but exceptionally bad at geometry.
---