Connect with your social network account
Forum Information
You will earn 1.5 pts. per new post (reply) in this forum.

**Registered members may reply to any topic in this forum**


Posts: 17274
Joined: Mon Oct 30, 2017 5:16 pm
Contact:
Status: Offline
Shock Straps – Filed Test & Product Review
Idaho –
-(
AmmoLand.com
)- While conducting seminars in Dallas at the Dallas Safari Club Conv. & Expo this year, between seminars I was walking the aisles at the show and noticed a booth that had some stout looking straps called Shock Straps. Everyone in the outdoor world uses straps, don't they? Whether strapping down our four-wheelers, snowmobiles, boats or a load of firewood.
Shock Straps
My wife calls me the eternal tightwad. I tell her I'm not tight, I'm just thrifty but I learned a long time ago that you don't want to scrimp on the quality of your straps. Too much bad stuff can happen if they malfunction. What if a load of firewood or a four-wheeler flipped out of the back of your truck into oncoming traffic? Someone is going to get hurt or die. You don't want that. So don't buy cheap straps.
When I saw the Shock Strap booth and looked at their product, I knew that I had found the ultimate strap. Over the years I've gravitated from buying cheap gear to better/more durable gear. Not only does cheap gear not last, but it will also malfunction and leave you stranded. I don't know how many times I've lost a strap while hauling my 4-wheeler. I always strap it down with four straps but nearly always lose one so I got in the habit of tying the tail off to the trailer. ShockStrap incorporated what they call a safety strap which helps tie your load down tight. It has two purposes:
If an accident happens and the ShockStrap breaks, the Safety Strap will keep the load in place.
The Safety Strap acts as a limiter so you don't over tighten and warp what you're securing.
The breaking strength is over 3,000 lbs. The military-grade ratchet has an outside release for ease of use even with gloves on. It is bolted on so you can replace it in the future if you wear out your straps. I like this feature. On many of the cheaper straps, it is a race to see if the straps or the ratchet part wears out first. It also has a 2-yr. warranty which is higher than any other tie-downs that I have ever purchased. Breaking strength is over 3000 lbs. Built with a military-grade ratchet, US-made 1.5″ black Polyester webbing, integrated soft ties, oversized hooks, and our unique flexible ShockStrap. On the end of the tail of the strap past the hook is a loop. This lets you use the soft loop when the hook won't fit around your desired tie-off point so that you can wrap the strap around a corner post or piece of equipment and place the loop in the hook to tie it off. Ingenious idea. The hooks also have retention clips to keep the hooks from coming off. The ShockStrap maintains constant pressure on the strap so when hitting bumps or having side pressure applied to it. You won't be pulling over every 50 miles to retighten your straps. Amazingly for a heavy-duty tie-down made in America, the MSRP is only $45.99. And as is usual, we will close with the specs. SHOCKSTRAP FEATURES: Dependable – A ShockStrap provides superior shock absorption without coming loose if you're looking for a heavy strap to secure your four-wheeler while headed up elk hunting or even a trailer load of firewood you need to check out the Shock Strap.
Safety Strap – A backup strap in case the ShockStrap is compromised
ShockStrap and Ratchet are bolted on so they are field replaceable
Durable – The ShockStrap is made from our own proprietary formula and is not affected by most chemicals, sunlight, oil, saltwater, fungus or moisture
Rust Resistant – Hooks and Ratchet are yellow zinc coated, which lasts 8 to 10 times longer than chrome plating
Soft Ties – flexibility to always find a way to secure your load
Retention clips on each hook
SHOCKSTRAP SPECIFICATIONS:
ShockStrap Ratchet Safety Strap is rated over 3,000 lbs. Breaking Strength
Safety Strap around one side of the Urethane based ShockStrap
Military grade ratchet with outside release that is field replaceable
Integrated Soft Ties near both ends
Oversized hooks with retention clips
Working load limit of 1000 lbs.
ShockStraps are a patented, unique urethane-based shock absorbing tie down made to keep tension on the strap and your load secure. When road vibrations cause loads to shift and settle, other tie downs can loosen and become unsafe. Under these conditions, ShockStrap stretches and contracts acting like a shock absorber keeping your load secure. Even in extremely rough road conditions, you won't have to pull over to make sure that your tie-downs are secure.
About Tom Claycomb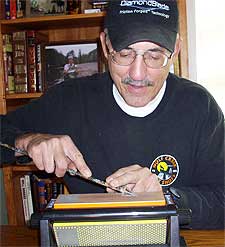 Tom Claycomb has been an avid hunter/fisherman throughout his life as well as an outdoors writer with outdoor columns in the magazine Hunt Alaska, Bass Pro Shops, Bowhunter.net and freelances for numerous magazines and newspapers. "To properly skin your animal, you will need a sharp knife. I have an e-article on Amazon Kindle titled 
Knife Sharpening #ad
 for $.99 if you're having trouble."
---
Similar Topics

Replies
Views

Last post