Connect with your social network account
Forum Information
You will earn 1.5 pts. per new post (reply) in this forum.

**Registered members may reply to any topic in this forum**


Posts: 17274
Joined: Mon Oct 30, 2017 5:16 pm
Contact:
Status: Offline
National Inaugural Convention is coming August 14, 15, and 16 2020. Click below to sign up and get additional information.
Be a part of History !!!!
https://naaga.co/wearefamily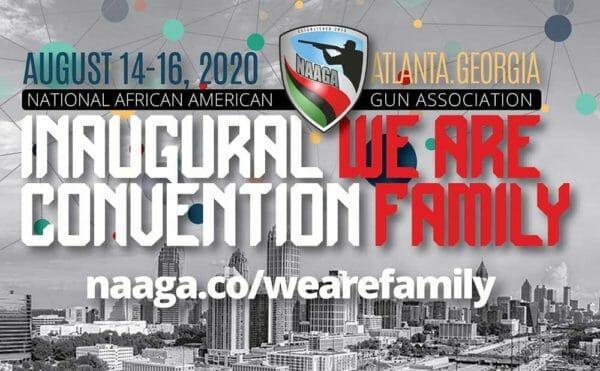 National African American Gun Association Convention
USA –
-(
AmmoLand.com
)- The Year 2019 was great for the National African American Gun Association. We are continuing to grow at a solid rate attracting members from all walks of life in the United States. We are even beginning to have a following of international members from around the World (Asia, Africa, Latin America, & Europe) As I look back on the past year there was a lot of discussion and activity around potential National Gun Legislation, Women being the fastest growing market within the Gun Industry – especially African American Women, National Convention, Development of a Political "Wing" (Political Action Committee -PAC), and the need for our Firearms community to start buying "Land" for our own Gun Ranges. All of these are critical and I wouldn't even attempt to try to rank them in importance because all these issues will need to be addressed by our Organization and Community in 2020 and beyond. The key to our success as an African American Firearms Organization is to think "strategically" on all the issues that are important to us. When I say the word "strategically" I mean collectively working as one unit toward our goals and objectives. I want to remind everyone reading this editorial that currently there are over 4 Million African American Firearms owners in the United States but yet we don't approach the Gun Market as one unit so we generally don't get major discounts, our concerns or complaints are ignored, and in most instances, we aren't respected. But imagine if 4 million African American Firearms owners working together as an "Economic Block" went to the top Gun Companies in the USA and stated we are all going to buy 1 gun from you on February 28th annually what kind of discount do you think we could attain…… It would be tremendous and that Pistol or Rifle that normally cost you $600 dollars would suddenly drop down to $300 because numbers count. So in 2020 let's start to have a strategic mindset on not only firearm purchases but also every other issue that we face. If we can do that there is nothing that we can't achieve as an organization. If you want to go quickly, go alone. If you want to go far, go together. ~ African proverb
About National African American Gun Association (NAAGA):
The goal of the National African American Gun Association is to have every African American introduced to firearm use for home protection, competitive shooting, and outdoor recreational activities. We are a civil rights organization focused on self-preservation of our community through armed protection and community building. The National African American Gun Association provides a network for all African American firearm owners, gun clubs and outdoor enthusiasts. We welcome people of all religious, social, and racial perspectives. We especially welcome African American members of law enforcement and active/retired military. For more information, visit: 
www.naaga.co
.
---