Connect with your social network account
Forum Information
You will earn 1.5 pts. per new post (reply) in this forum.

**Registered members may reply to any topic in this forum**


Posts: 17274
Joined: Mon Oct 30, 2017 5:16 pm
Contact:
Status: Offline
Checking Out The Podavach U-Loader and Gun Cleaning Wipes
U.S.A.
–
-(Ammoland.com)-
There are tons of different types of speed loaders on the market. I am an avid shooter who put a few hundred rounds down range two to three times a week, I am always looking for something to save my thumbs, and to save me some time so I can concentrate on shooting. When it comes to pistols, I use a Maglula UpLULA Magazine Speed Loader. It is a great invention that saves me tons of time. It is my top pick for a speed loader for handguns. It works well and is compact, so I can throw it in my bag and go to the range. When it comes to my AR-15, I use a Caldwell Mag Charger TAC 30. It saves me some time. I usually load up around ten magazines at home before heading to the range. I have used this speed loader with all my .223/5.56, .300BLK, and 6.5 Grendel rifles for the last few years. I haven't had any complaints. The issue I have is that I don't own a speed loader for my AKs. Ever since Red Oktober, I have immersed myself in the AK culture. I have been killing my thumbs loading mags. The Ukrainian company, Podavach, reached out to me and wanted to know if I would do a no strings attached review of their speed loader and their cleaning wipes.
Podavach U-Loader
Podavach U-LoaderI quickly agreed to their request.
Podavach sent me the U-Loader test out
. The Ukrainian company designed its speed loaded to be able to load multiple calibers. These calibers include 5.56×45, 7.62×39, 6.5 Grendel, .300 BLK, 5.45×39, .223, 204 Ruger, .224 Valkyrie, 25-45 sharps, and 6.8 SPC. I have seen these types of speed loaders on websites like Etsy for a while but never tried one out. I was interested to see how it would work out for me. The Podavach U-Loader came in a cardboard box with a diagram of the speed load on the inside lid. The company made its speed loader out of Baltic birch plywood. They offer the basic U-Loader in two different finishes. The first is all black, and the second is natural wood. They sent me mine in natural wood. The finish was pretty good. It didn't have that a mass production feel. Podavach has a video on its website that shows how much work does into making each loader. It isn't a piece of Chinese crap. There is a lot of time and effort put into the creation of the Eastern European speed loader. To use the speed loader, the user dumps rounds into the ammo tray. They insert the magazine into the magazine holder. The user then moves the cartridges into the multi-level loading chamber. A cool thing about the loading chamber of the U-Loader is that Podavach included marks that indicate the number of rounds for each caliber. This way, the user knows when they have 30 rounds ready to load into their mag (or ten in non-free states) without having to hand count the cartridges. In the next step, the user grabs the magazine with one hand. They take the pusher with their free hand and push the rounds into the magazine. Podavach added a magnet to the bottom of the U-Loader pusher. This magnet keeps the pusher from moving around when it is not in use. It holds up pretty well to my moving the board around.
Podavach U-LoaderI was worried the board would move around when loading the magazines. Podavach thought of this problem and added rubber footers to the bottom of the U-Loader. These rubber footers work well at stopping the speed loader from moving around. I loaded .300blk and 5.56 into my AR magazines. It does take a few magazines to get the hang of loading them using the U-Loader. Podavach says it takes about ten mags for a user to get used to using the speed loader. I would say this number is pretty accurate. I tried loading a few different types of AR magazines, and they all worked well. The more I use the U-Loader, the easier it was to get a feel for it, but Podavach says users can use the speed loader for AK magazines as well. My next step in testing would be to grab a bunch of different brands of AK magazines and load them up for the range.
Podavach U-LoaderI dumped a bunch of 7.62×39 rounds and the tray. It loaded my metal SMG Tactical magazine fine. I then tried out some steel Bulgarian surplus magazines, and again it worked well with these magazines. For kicks, I grabbed my X-Tech Mag47 magazine and tried to load it using the U-Loader. This is the point where I ran into trouble. It wouldn't load the rounds in the XTech mag. It looks like the lip of the magazine is just a fraction of inch too high for the Podavach speed loader to work. The Mag47 is my go-to magazine for the AK platform because it is indestructible, so this discovery was heartbreaking to me. Podavach also says that the U-Loader is waterproof. It is just wood, so that should go without saying. The company also includes a lifetime warranty on all their speed loaders, which is a nice touch. The Podavach U-Loader retails for an MSRP $79.00 but can users can find it out sale for $59.00. Podavach also supplied me with a carry bag for the U-Loader. It was a nice touch, and it is worth the extra $10 that the company charges for the bag. It is a heavy canvas bag.
Podavach U-LoaderMy final thoughts on the Podavach U-Loader is that it is a nice product that does what it claims in most cases. I will be sticking with my Caldwell Mag Charger TAC 30 to bring to the range for my AR because of its small size, but I will be using the U-Loader at home for the speed it loads magazines. I just wish it worked with my XTech mags. Now to the Podavach Gun Cleaning Wipes. I will start by saying I love these wipes. These are probably the best cleaning product I have ever used on my guns.
Podavach Gun Cleaning WipesThese cleaning wipes came in packets of ten (the ones on the Podavach website are in packs of 12). The package has a zip lock top to prevent the unused wipes from drying out. It seems to do a good job. I opened one pack and then sealed it using the ziplock and let it sit out on my counter for a month. The wipes did not dry out. The non-woven fabric wipes contain a mineral solution. This solution cuts through carbon better than almost anything I have found. I used it on multiple firearms, including ones that have been sitting for a while. It was easy, and I didn't have to use a lot of pressure to clean my guns. Another thing I really like about the Podavach Gun Cleaning Wipes is that the wipes also lubricate my guns. Each wipe can also split into smaller patches for cleaning things like inside the barrel with the assistance of a rod.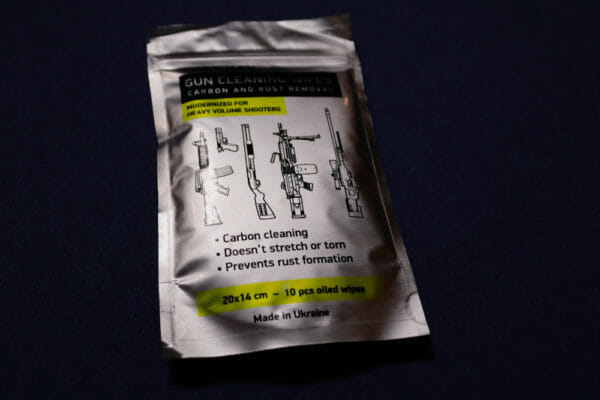 Podavach Gun Cleaning WipesOne thing a lot of cleaning products have in common is a strong chemical smell. Luckily Podavach eliminated the odor of the solution. These wipes are almost completely odorless. I'm not too fond of the smell of some cleaning solutions, so this was a big bonus in my mind. The Podavach Gun Cleaning Wipes saved me a lot of time and effort. It was quite surprising how well it worked. I am a true believer. Podavach sales the Gun Cleaning Wipes for Handguns and Rifles for $9, and it is worth every penny. Readers can find out more about Podavach products at
https://podavach.store/
About John Crump
John is a NRA instructor and a constitutional activist. He is the former CEO of Veritas Firearms, LLC and is the co-host of The Patriot News Podcast which can be found at 
www.blogtalkradio.com/patriotnews
. John has written extensively on the patriot movement including 3%'ers, Oath Keepers, and Militias. In addition to the Patriot movement, John has written about firearms, interviewed people of all walks of life, and on the Constitution. John lives in Northern Virginia with his wife and sons and is currently working on a book on 
leftist deplatforming methods
 and can be followed on Twitter at 
@crumpyss
, on Facebook at 
realjohncrump
, or at 
www.crumpy.com
.
---