Connect with your social network account
Forum Information
You will earn 1.5 pts. per new post (reply) in this forum.

**Registered members may reply to any topic in this forum**


Posts: 17274
Joined: Mon Oct 30, 2017 5:16 pm
Contact:
Status: Offline
Opinion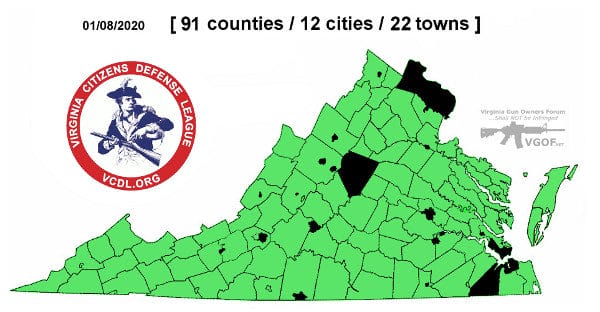 Virginia Second Amendment Sanctuaries in Green, 8 January 2020, scaled and cropped by Dean Weingarten, from VCDL.org
Arizona
-(
Ammoland.com
)- The situation in Virginia is heating up. In a combination of gerrymandering mandated by a state court and millions of dollars spent on a few local races by billionaires who hate the idea of an armed population, targeted advertising, organization by sympathizers of the Chinese communists, and apathy by the rest of Virginia voters, the Democrats have taken control of the Governorship and both the General assembly and the Virginia Senate, by rather slim margins. These are not yesterday's Democrats. These Democrats have been specially selected for their antipathy toward the Virginia Constitution's limitations on government power, the Second Amendment of the U.S. Constitution, and limits on government power, generally. As a result, a plethora of bills, designed to severely restrict the exercise of Second Amendment rights, have been filed for the 2020 Virginia session. They range
from Universal Background Checks
, to bans on semi-automatics and magazines, "red flag" laws, heavy restrictions on indoor and outdoor ranges, and firearms training. In response to these proposed attacks on the exercise of Second Amendment rights, 91 of 95 Virginia counties have declared themselves "
Second Amendment sanctuaries
". The Culpeper County Sheriff, Scott Jenkins, has proposed a possible counter move. Deputizing thousands of Second Amendment Supporters would render them immune from several of the proposed laws. From a
facebook post by Culpeper County Sheriff's office
:
https://www.youtube.com/embed/m1Vulb_m5Go
I remain very optimistic that our General Assembly will not pass the proposed bills. Obviously, if passed, there are many of us willing to challenge these laws through the courts. In addition, if necessary, I plan to properly screen and deputize thousands of our law-abiding citizens to protect their constitutional right to own firearms." -Sheriff Scott Jenkins "A militia, when properly formed, are in fact the people themselves…and include all men capable of bearing arms." (1788) -Richard Henry Lee How effective would such a move be? It could be very effective, at least in the short term. From the Virginia Constitution,
Article VII. Local Government
Section 4. County and city officers There shall be elected by the qualified voters of each county and city a treasurer, a sheriff, an attorney for the Commonwealth, a clerk, who shall be clerk of the court in the office of which deeds are recorded, and a commissioner of revenue. The duties and compensation of such officers shall be prescribed by general law or special act. The treasurer, the sheriff, the commissioner of the revenue, and the clerk of any circuit court may at the time he qualifies as provided in §
15.2-1522
or thereafter appoint one or more deputies, who may discharge any of the official duties of their principal during his continuance in office, unless it is some duty the performance of which by a deputy is expressly forbidden by law. The deputies may not be removed from office except for the following:
Virginia law § 24.2-230
. However, an appointed officer shall be removed from office only by the person or authority who appointed him unless he is sentenced for a crime as provided for in §
24.2-231
or is determined to be "mentally incompetent" as provided for in §
24.2-232
. Deputies do not need to wear a uniform. The sheriff decides what they may or may not wear.
§ 15.2-1611. Alternate clothing for sheriff and deputies
. When the duties of a sheriff or deputy sheriff are such that the wearing of the standard sheriff's uniform would adversely limit the effectiveness of the sheriff's or deputy sheriff's ability to perform his prescribed duties, then clothing appropriate for the duties to be performed may be required by the sheriff. Deputies are to be compensated for expenses, but there is no guarantee.
§ 15.2-1609.9. Compensation of part-time deputies
. The part-time deputies of sheriffs shall not receive fixed salaries, but shall be entitled to receive reasonable compensation for their services and allowances for their expenses, to be determined and paid as hereinafter provided. The law enforcement training is not required if the deputy is not a full-time deputy.
§ 15.2-1612.1. Deputy sheriffs to complete course of instruction established by Department of Criminal Justice Services
. Any full-time deputy sheriff not employed on July 1, 1971, shall successfully complete a course of instruction established by the Department of Criminal Justice Services as provided in clause (i) of subdivision 2 of §
9.1-102
. Virginia sheriffs can short circuit many of the proposed laws by deputizing the adults who wish to participate. I do not see any limitation on residence for those who may be deputized. Theoretically, one sheriff could deputize all of Virginia, and others, including residents of other states. The counter would be for the Legislature to pass legislation limiting the powers of the county sheriffs. Political activists on the left have suggested California
do away with the office of sheriff
. Rural sheriffs are a bulwark of local power. That would be very difficult in Virginia. It would require a state constitutional amendment. However, the legislature could limit sheriff's power with the passage of a law. They do not appear to be able to revoke the appointments of "minor officers" at least without going to court. Court cases would, and will, take time. It appears the appointment of large numbers of deputies, in Virginia Second Amendment sanctuary counties, is a viable and valid strategy, at least in the short term. Over the long term, elections and courts may resolve the issue.
About Dean Weingarten:
Dean Weingarten has been a peace officer, a military officer, was on the University of Wisconsin Pistol Team for four years, and was first certified to teach firearms safety in 1973. He taught the Arizona concealed carry course for fifteen years until the goal of Constitutional Carry was attained. He has degrees in meteorology and mining engineering and retired from the Department of Defense after a 30-year career in Army Research, Development, Testing, and Evaluation.
---