Connect with your social network account
Forum Information
You will earn 1.5 pts. per new post (reply) in this forum.

**Registered members may reply to any topic in this forum**


Posts: 17274
Joined: Mon Oct 30, 2017 5:16 pm
Contact:
Status: Offline
Virginia Update: ASA's Work To Defend Suppressors
U.S.A.
–
-(Ammoland.com)-
With the 2020 legislative session underway, the American Suppressor Association has been hard at work, fighting to ensure that law-abiding citizens in Virginia do not lose the right to own and use suppressors. We arrived in Richmond on Sunday, January 5th, and have spent the past 12 days breaking down misconceptions and educating legislators on the realities of suppressors. Our primary mission is to ensure that Delegate Mark Levine's (D-45) 
House Bill 961
 does not succeed. The bill seeks to ban the sale of suppressors, standard capacity magazines, and "assault firearms" in Virginia. If enacted as currently drafted, Virginians in lawful possession of suppressors will be required to destroy them, transfer them out of state, or surrender them to state or local law enforcement by January 1st, 2021. Any civilian caught importing, selling, transferring, manufacturing, purchasing, possessing, or transporting a suppressor after that date would be charged with a Class 6 felony.
Thus far, we have had in-person meetings with every legislator in both the 
House Public Safety Committee
 and 
Senate Judiciary Committee
, or one of their staffers. Although the bill has yet to be assigned to committee, these are the two that have jurisdiction over firearms. We also participated in the NRA's lobby day on Monday, January 13th, where thousands of gun owners from all across Virginia showed up to peacefully voice their displeasure with the tyrannical anti-gun measures being considered by the legislature. Throughout the day we handed out hundreds of ASA stickers, "Cans Not Bans" pins, and educational leaflets on suppressors. We encouraged everyone that we spoke with to find their legislators office, ask to meet with the member or legislative assistant, and let them know that they oppose any ban or further restrictions on suppressors in the Commonwealth. Our meetings at the Virginia Capitol have made one thing abundantly clear: most of the legislators that we met with did not understand the basics of suppressors. There were exceptions, including Delegate Glenn Davis (R-84), a member of the House Public Safety Committee, who personally owns several suppressors. We offered every member and staffer that we met with the opportunity to join us at the range for an educational live-fire demonstration of suppressors. We sincerely hope that they will take us up on the offer. Next week ASA will travel to Las Vegas for SHOT Show, the annual Shooting, Hunting, Outdoor Trade Show hosted by the National Shooting Sports Foundation. We plan on returning to Richmond the week of January 27th and will remain through the end of the legislative session if necessary. Holding the line in Virginia is ASA's top priority for 2020. Virginia is the cradle of the American Republic. If we lose ground in Virginia, we will certainly lose ground elsewhere. Failure is simply not an option.
In order to win, we need your help. Will you join us?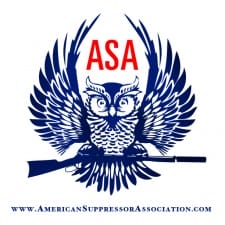 ABOUT THE AMERICAN SUPPRESSOR ASSOCIATION 
The American Suppressor Association (ASA) is the unified voice of the suppressor community. We exist for one reason and one reason only: 
to fight for pro-suppressor reform nationwide.
The ability of the American Suppressor Association to fight for pro-suppressor reform is tied directly to our ability to fundraise. Since the ASA's formation in 2011, 3 states have legalized suppressor ownership and 18 states have legalized suppressor hunting. Much of this would not have happened without your support. For more information on how you can join us in the fight to help protect and expand your right to own and use suppressors, visit 
www.AmericanSuppressorAssociation.com
.
Take Action Now
EMAIL – Email your legislator using the contact form below
CALL – Call your legislators and ask them to oppose any ban on suppressors
MEET – Get to Richmond and meet with your legislators in person
Encourage others to call and schedule meetings with their legislators
Stay tuned for updates
---
Similar Topics

Replies
Views

Last post