Connect with your social network account
Forum Information
You will earn 1.5 pts. per new post (reply) in this forum.

**Registered members may reply to any topic in this forum**


Posts: 17274
Joined: Mon Oct 30, 2017 5:16 pm
Contact:
Status: Offline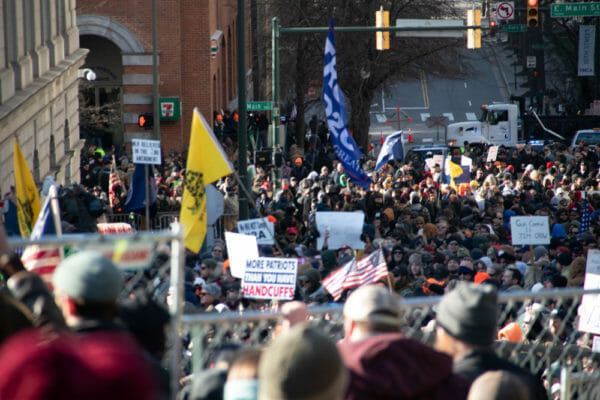 Richmond Aftermath: Is Dem Gun Control Push Political Suicide? Photo by John Crump
U.S.A.
–
-(Ammoland.com)-
Despite the massive gun rights rally in Richmond by Virginia gun owners and supporters from several other states, Democrats in the State Assembly are continuing to push their restrictive gun control agenda, leading to speculation they are so fanatical about guns they are willing to commit political suicide. Already, there is an online petition at
change.org
for the recall of anti-gun Gov. Ralph Northam. His emergency order that temporarily prohibited the carrying of arms inside a security fence erected around the capitol in an effort to disarm "Rally Day" demonstrators infuriated grassroots rights activists who have brought guns to the capitol before without a problem. The number of signatures on the petition was approaching 80,000 by Wednesday morning. Such a petition has no force of law, but it does signal the growing anger toward Democrats now in the majority in Richmond. They're in power only because of a low voter turnout last November, something not likely to happen again, because gun owners have long memories. Democrats also benefitted from a $2.5 million expenditure by Michael Bloomberg's Everytown for Gun Safety Action Fund. The next election for the House of Delegates is in
November 2021
, and if gun owners can maintain their current momentum, power will shift dramatically in the capitol. It's a safe bet more than 40 percent of Virginia voters will cast a ballot next year. Northam cannot run for re-election in 2021. Already declared in the race to succeed him are Virginia Attorney General Mark Herring and Lt. Gov. Justin Fairfax, both Democrats. Now might be a good time for gun owners to be recruiting a Republican to run for the office. This November's presidential election could provide a hint about the damage Northam and his Democrat cronies are doing to their party. The state was blue in 2016, but that appears to have changed dramatically now that gun owners have been energized. Hillary Clinton won Virginia in 2016. Barack Obama won in 2012. Official estimates place the number of people attending the rally at 22,000, most of them outside the secure Capitol Square area carrying one or more firearms. Nobody was harmed, although
Philadelphia Inquirer
Columnist Will Bunch asserted it was a turnout designed to "to scare away any citizens wishing to use their 1st Amendment rights to speak out against them." There is no evidence of that. There is ample evidence of diversity in the crowd that some had attempted to portray as a "white supremacist" demonstration. It was a remarkable cross-section, with gun owners of virtually all ethnic backgrounds. However, one day later, the Virginia Senate "gave preliminary approval" of SB 240, a proposed "red flag" law 24 hours after the massive rally, according to
WTVR News
. Was that the Democrat Senate majority thumbing its nose at Second Amendment citizens who attended the rally? Writing at
Reason,
J.D. Tuccille questioned the "credible intelligence" that enabled Northam to declare his "state of emergency" and disarm the estimated 6,000 citizens who got inside the security barrier. "Maybe it exists," Tuccille said about the alleged information, "but governments have a long history of feeding the public's fears to delegitimize opponents and justify extraordinary actions."
WTVR is also reporting
that a federal prosecutor in Maryland has "disclosed the existence" of a video in which former Canadian Armed Forces reservist Patrik Jordan Mathews—arrested by federal authorities and now in custody—allegedly advocated killing people at the rally in hopes of sparking a civil war. Others wonder if Northam didn't announce the temporary weapons ban as a means of disarming people but to also discourage larger attendance.
CNN
seemed compelled to headline a story about the event with "Virginia gun-rights rally concludes peacefully despite earlier fears of extremist violence." None of those alleged fears was voiced by anybody organizing or attending the rights rally. Perhaps the Democrats huddled inside the Capitol were fearful of a large group of gun owners, and maybe the media was disappointed at the calm demeanor of those heavily-armed citizens. Lots of points were scored by people attending the rally, who
cleaned up
after themselves, leaving the neighborhood around the Capitol in better condition than when they arrived only hours earlier. Some grassroots activists have suggested on social media that the real "cleanup" in Richmond may have to wait until November 2021.
About Dave Workman
Dave Workman is a senior editor at 
TheGunMag.com
 and Liberty Park Press, 
author of multiple books
 on the Right to Keep & Bear Arms and formerly an NRA-certified firearms instructor.
---