Connect with your social network account
Forum Information
You will earn 1.5 pts. per new post (reply) in this forum.

**Registered members may reply to any topic in this forum**


Posts: 17274
Joined: Mon Oct 30, 2017 5:16 pm
Contact:
Status: Offline
Disclosure: Some of the links below are affiliate links, meaning at no additional cost to you, Ammoland will earn a commission if you click through and make a purchase.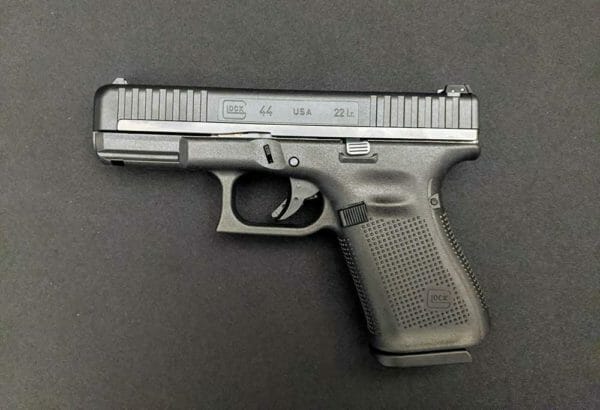 GLOCK 44, photos by Duncan Johnson
U.S.A.
–
-(Ammoland.com)-
Of all the list of things I thought GLOCK might release this year, a pistol the same size as a G19 but chambered in .22LR was definitely not on my mind. In December GLOCK invited me to join a group of industry folk to announce the new G44. This was the second major release I had been invited to attend, and compared to the Gen5 launch, this release actually seemed larger or was given more attention. What is the big deal about the .22LR GLOCK G44? Like all things GLOCK, you know what you can expect: from the trigger to the sights, the takedown, even the dimensions of the G44 is an exact recreation of the G19. If you have holsters and mag pouches for a G19, those will also work with the G44. Without mincing words, the G44 is the best way to get better at shooting GLOCKs. To put money to the description if you spent $100 on ammo you could shoot roughly 2,500 rounds of .22LR. For the same amount of money, you would only get 500 rounds of 9mm.
Spend less money on ammo and more time on the range with the G44.Not only is .22LR cheap which is great for the dedicated GLOCK shooter, but it is also a great gateway cartridge for new shooters. Not everyone wants to shoot a 50BMG for their first time at the range, I mean I would have but I am not everyone. 9mm certainly is not a 50, but for first-time shooters, that recoil impulse can be uncomfortable and may even deter them from pursuing future ventures to the range. A new shooter holding a G44 will not only enjoy their time at the range but it also will cost the hosting-shooter nothing to bring them along and let them shoot endless strings of .22LR downrange. Again the difference in boxes of ammo is 5 to 1. Whether you are a master GLOCK-slinger or you are a first-time shooter the G44 is going to be a popular pistol and for good reason: it's fun to shoot. I am not a fan of 99% of .22LRs. In fact, there has only ever been one in my safe and its the G44 that GLOCK sent me. I hold no personal gripes with the cartridge, but I also do not have a fondness for it that some people develop through 10/22s and their "my Papi's rifle" stories. To be honest, I am surprised by how much I enjoyed shooting the G44. One of the features that make the G44 so much fun is its weight or lack thereof. Loaded or unloaded, the G44 is easily the lightest gun I have ever held and much of that is owed to an innovative hybrid steel polymer slide. As you can see in the picture the slide is mostly polymer that sits atop two steel rail sections that contact the frame. This weight reduction not only makes the gun light but it also greatly reduces any muzzle flip.
G44 hybrid steel polymer slide shown above the frame.There are a few features that the G44 has that will make any shooter happy, namely the improved Gen 5 style trigger, front slide serrations, and interchangeable backstraps. The trigger found in the Gen 5 pistols is a big improvement from previous generations, and the same trigger is found in the G44. The trigger along with the front slide serrations makes the G44 an extremely valid training tool as they allow the user to replicate their carry gun and practice press checks as well as their trigger pull. Finally, GLOCK's continued inclusion of interchangeable backstraps will allow the gun to fit individual shooter's hands better, I myself go for the small beavertail. When we are looking at first-time shooters there are specific features that the G44 has that will make their range time easy and enjoyable. First off the magazines have tabs to pull the follower down and allow for easy loading. The trick with loading these magazines is to only pull down the follower far enough for one round to slide into place. Loading one at a time in this manner will seat the rounds properly in the magazine and is very easy to do with the included tabs. Although the threaded barrel does not come with the pistol, they are available from GLOCK when the pistol releases. This means for those of you with suppressors, you now have a GLOCK .22LR for a host. The idea of putting a can on this pistol and going to the range with a first-time shooter is just one of the reasons I intend to keep this gun.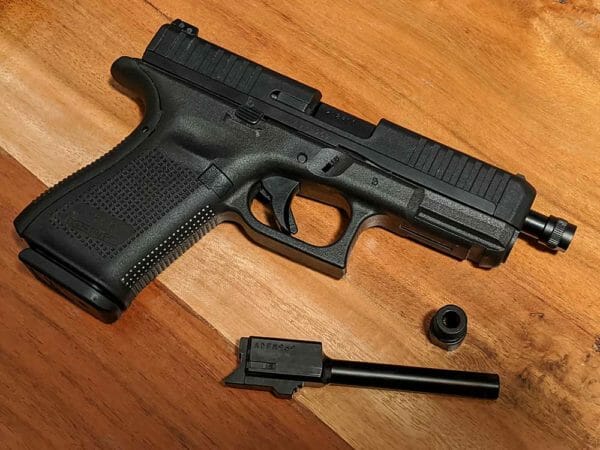 G44 with M9 x .75 RH threaded barrel and .500-28 Adapter included. Non-Threaded Barrel below adapter.The one thing that really surprised me most with the G44 was how reliably it ran for a .22LR. At the release event, each pistol had thousands of rounds put through them before and during the range session. From the malfunctions I saw at the range session and from my time with it at home, I have noticed the gun is very reliant on how you load the magazines for reliability. As stated above, pulling the tabs down and going one round at a time will ensure a properly loaded magazine and will run without issue.
G44 10 round magazineAs far as ammunition goes, the GLOCK ran everything without issue, with the exception of some very low-velocity subsonic ammunition. Not including the event in December, I put around 1,000 rounds of mixed .22LR through the G44. After all that loading and reloading with two ten-round magazines, I am shocked by how clean the gun was. At points, I was using the dirtiest .22LR I had on hand, and yet the G44 has hardly shown signs of being to the range. There are a few things the G44 will certainly see down the road, either through GLOCK or aftermarket will yet to be seen. The main thing everyone will be asking for is larger capacity magazines and I am sure that will be the first of many aftermarket parts for the G44. Other than that the sights that come with the pistol are the standard U-shaped dot that GLOCK is famous for, but any sights that work with a Gen 5 G19 will work fine with the .22LR G44. Besides a need for larger magazines and my preference for other sights, the GLOCK G44 is a perfect training firearm for anyone that carries or shoots a G19.
The GLOCK G44 is a perfect training firearm.G44 Impressions & Applications Overall, the G44 is a fun shooting pistol that has a number of places in any gun owners safe. Here is a quick list of shooters and their disciplines who will make good use of a G44:
Concealed Carry – perfect training tool for those who carry a G19
Competition – Steel match and other .22LR competitions, training tool
First Time Shooter – .22LR easier to handle and learn than other calibers
Plinkers – the G44 is fun.
GLOCK Addicts – for obvious reasons
Pretty much every gun owner should have room in their safe for this pistol. From what I heard at the event MSRP will be somewhere around $400 which means that for many people this should be a no brainer at the gun shop.
About Duncan Johnson: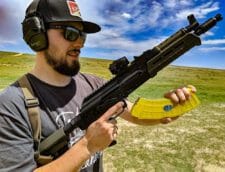 Duncan is a firm believer in the Second Amendment and that "shall not be infringed", means exactly that. A life-long firearms enthusiast and a graduate of George Mason University, now competing regularly in 3 gun competitions, Duncan is always looking to improve his shooting skills. Duncan is a regular contributor to AmmoLand and assists in the everyday gun-news publishing as an assistant editor.
---