Connect with your social network account
Forum Information
You will earn 1.5 pts. per new post (reply) in this forum.

**Registered members may reply to any topic in this forum**


Posts: 17274
Joined: Mon Oct 30, 2017 5:16 pm
Contact:
Status: Offline
Q Mini Fix
U.S.A.
–
-(Ammoland.com)-
SHOT show 2020 was full of amazing firearms, accessories, and memories. However, two firearms really caught my eye as the most interesting of the 2020 show. One of those is the Q Mini Fix. While this firearm was announced some time ago, it will just be made available this year, hopefully very soon. Although Q actually didn't have an official booth at the show, at booths like SB tactical, Eotech, and Scalar Works Q's guns were prevalent and catching everyone's eye. It was commonplace to be walking by these booths and see people picking up Q guns for the first time in pure amazement; over the build quality and how shockingly light they are.
Q Mini FixIf you went by the SB Tactical booth at the right time you would have seen me there in complete awe, and drooling all over, the Q Mini Fix. While I have some experience with the full size, because I got to review one awhile back, this was my first time getting to actually see and hold a Mini Fix in person. What is so shocking is just how "mini" this thing really is, it is a tiny little package.
Q Mini FixFor those not familiar, let me quickly go over some of the features of the Mini Fix. First, it is a bolt action rifle that has a one-piece receiver like an AR. It also has a 45-degree short throw bolt handle, full length M1913 rail up top, and a brace that folds to collapse the package even farther. With the brace extended, it will be about 26 inches long; folded, the Mini Fix will be about 17 inches long, and just over 5 pounds. I say about because these numbers could change ever so slightly when the production guns start to hit the streets.   While it will be available in some other calibers, the initial offering will be 300 Blackout and will work with standard AR-15 magazines. There is also an 8 inch, 1 in 5 twist barrel. That may seem like a fast twist rate, but remember the engineers at Q came up with the 300 Blackout round, and if that's what they say to use, I'm going to say its correct. It also has a tapered muzzle to interlock with the Q Full or Half Nelson suppressors. It will also come with a Q Cherry Bomb muzzle brake; to work with either the Thunder Chicken or Trash Panda suppressors from Q. Of course, you can also buy a 90-degree shoulder adapter to use a different suppressor that you may already have. 
Q Mini FixSo who needs an ultra-compact, ultra-lightweight bolt action gun? My question is, who doesn't? This is the ultimate backpack gun. Imagine hiking through the woods, and want to bring some protection, you probably wouldn't even notice the Mini Fix with all the rest of your gear. The Mini Fix would also make a phenomenal hunting rifle. Living in Alabama, most shots on deer here are within 100 yards, making it perfect for even subsonic 300 Blackout. Supersonic varieties of 300 Blackout should be good out to 300 yards. Now, if you seriously have shots longer than that you may need more gun, but if not, then why not have the smallest, lightest, rifle available.
Q Mini FixI'm just excited about it because I think it is going to be a ton of fun to shoot and an awesome suppressor host. If you're into suppressors, you already know that 300 Blackout is just about as good as it gets; I believe this may be the ultimate package for that cartridge. The bolt action will make it as quiet as it can be, and the size takes full advantage of the round without being any larger than it needs to be. Needless to say, I'm extremely excited about this offering, and really hope to get one in for review to see if it can live up to the lofty expectations I have built up for it. 
About Alabama Arsenal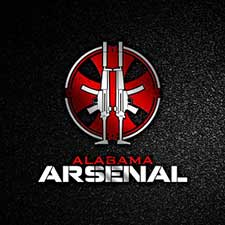 We conduct in-depth, unbiased reviews on firearms and accessories. We are made up of all different backgrounds to give you the best range of opinions, including military experience and gunsmith work. Be sure to check out our Facebook and Instagram. Unlike many channels out there, we make it a priority to respond to your comments. We enjoy engaging with our followers, and will gladly answer any reasonable questions you may have.
---