Connect with your social network account
Forum Information
You will earn 1.5 pts. per new post (reply) in this forum.

**Registered members may reply to any topic in this forum**


Posts: 17274
Joined: Mon Oct 30, 2017 5:16 pm
Contact:
Status: Offline
Image courtesy Dean Weingarten
U.S.A.
–
-(Ammoland.com)-
The claim has been made that the Marlin 39A has been in continuous production the longest of any rifle in existence. The rifle has been in production, in one form or another, since 1891. The model 39A appellation was given in 1939, according to a display at the Remington/Marlin exhibit at the SHOT Show in January 2020. My attention was attracted to a display celebrating 150 years of Marlin firearms production. On the display were a Marlin model 60 and a Marlin .444 lever gun. Both are iconic Marlin firearms. It seemed strange there was no Marlin 39A. The Marlin 39A has a cult following. They are an iconic rifle. They have excellent triggers, they are known for accuracy, a smooth action, and durability.
Image courtesy Dean WeingartenThey have not been listed in the Marlin catalog for several years. The only Marlin 39A on display at the Remington/Marlin booth was a historical display, reminding everyone the rifle first was manufactured in 1891. There have been numerous rumors about the possibility of returning the Marlin 39A to factory production. I heard more than one at the Shot Show. Representatives of Remington/Marlin were friendly but referred me to the only two Remington representatives at the show who seemed authorized to answer substantive questions. Although numerous attempts were made to contact these individuals, none were successful. A media associate told me he had the same difficulty. Remington/Marlin may have missed a marketing opportunity. A 150th commemorative 39A, in a limited run edition, might have sold out at $995 each. Technically, the Model 39A is still in production. It is available from the Marlin custom shop, as the
Model 39A Fancy for $3,495
. A friendly lady at the custom shop in Sturgis, South Dakota, told me they can build you a modern hunter version for only $1,995. She said she had heard rumors of factory production as well, with the disclaimer her information was no better than the Shot Show rumors. Used Model 39A rifles can be had for about $600. There is an alternative,
made by Chiappa
. It is the LA322. It comes in several varieties and grades, and can be found, with a little searching, for under $300. I handled one at the Shot Show. I was impressed. The action was very smooth. The trigger was crisp and light.
Chiappa LA322, Image courtesy Dean WeingartenIt looks like a Marlin 39A, but there are substantial differences. I have read the internal mechanism is different. The receiver is made of aluminum, not steel. This does not seem cause for concern. The Ruger 1022, the Marlin Model 60, and the Mossberg 702 all use aluminum receivers. They seem to last for decades without problems. As a practical matter, the aluminum receiver should hold up reasonably well. It is not an authentic Marlin 39A. If you want an authentic Marlin 39A, and do not want to pay $1,995 or more for a custom shop model, buy a used one while you can. The prices have been edging up over the last few years. The pattern is familiar. An iconic American firearm becomes too expensive to produce with traditional methods. It is taken out of production. The prices of existing stocks increase dramatically. If the Marlin 39A is brought back into factory production, I predict the price will be much more than $600.
About Dean Weingarten: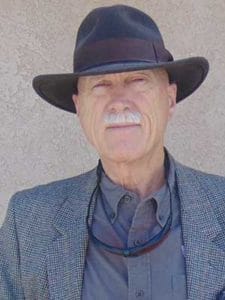 Dean Weingarten has been a peace officer, a military officer, was on the University of Wisconsin Pistol Team for four years, and was first certified to teach firearms safety in 1973. He taught the Arizona concealed carry course for fifteen years until the goal of Constitutional Carry was attained. He has degrees in meteorology and mining engineering, and retired from the Department of Defense after a 30 year career in Army Research, Development, Testing, and Evaluation.
---


Posts: 202
Joined: Thu Nov 02, 2017 12:51 pm
Likes given: 45
Likes received: 12
Status: Offline
My 1960 model 39A is the second one I have owned. I used this one for many of my Hunter Education Classes until the State issued Ruger bolt actions and told us that we could no longer use our own rifles for the required shooting portion of the class. It is a great rifle but I do not know who put the inlay of lighter in the stock. It is well done.
Firearms Safety is No Accident. Jim
---


Posts: 202
Joined: Thu Nov 02, 2017 12:51 pm
Likes given: 45
Likes received: 12
Status: Offline
The fact that Ruger Is purchasing the MARLIN merchandize and planning start making Marlin rifles again, the possibility looks good. Ruger should do well with the line. Long live the Lever Action!
Firearms Safety is No Accident. Jim
---