Connect with your social network account
Forum Information
You will earn 1.5 pts. per new post (reply) in this forum.

**Registered members may reply to any topic in this forum**


Posts: 17274
Joined: Mon Oct 30, 2017 5:16 pm
Contact:
Status: Offline
Even with the 3.625″ blade the CRKT Xolotl is a comfortable folder to carry due to it's sleek design.
U.S.A.
–
-(Ammoland.com)-
While attending the 2020 SHOT, I visited the CRKT booth. They showed me their
CRKT Xolotl knife
which I was soon testing. The same as all of you readers, I always carry a knife. Most of the time for EDC necessities but also for protection. For self-protection, a knife has to have four characteristics.
Be readily accessible.
Have at least a 3 ½" blade.
For a folder, I have to be able to open it quickly and one-handed.
Have a pointed blade or at least a clip point.
CRKT XOLOTL
The CRKT Xolotl met all four of my requirements. The moment I held the CRKT Xolotl I liked it. With the flipper, I can pop it out and into action in a hot second. It is also comfortable to carry due to it being such a thin, sleek profiled knife. It is thin, but the width is only about 2/3's of the one I had in my pocket at the time. They advertise is as being almost as compact and as easy to carry as a fountain pen. That is not much of an exaggeration! It has a G10 handle and with the two flippers sticking out you should be able to maintain a firm grip on the knife. The blade is a pointed dagger type of design but only sharp on one edge to keep it legal. It has a reversible pocket clip and utilizes a liner lock. My liner lock activates at least 1/3 of the way onto the blade. I say this to notate that it firmly locks the open blade in place. Veteran Michael Rodriquez designed the CRKT Xolotl. Now to give a little history. In 2013 Ryan Johnson approached CRKT with the news that he had been working with a few combat veterans that had returned from war with varying degrees of PTS. To work through these challenges they were designing and forging steel into knives. Hence, this knife is a result of CRKT getting involved and developing a program they called Forged By War. Due to the above we now have the CRKT Xolotl knife. The end result is a fast-acting flipper that is about as fast deploying as a lot of switchblades. It activates a sleek spear point blade only sharp on one side but the top does have a definite hollow grind. So, if you're in the market for a fast deploying self-protection folder, check out the CRKT Xolotl which has an MSRP of $125.00.
SPECIFICATIONS:
Overall Length:9.00″
Blade Length:3.625″
Blade Width:0.75″
Blade Thickness:0.125″
Blade Material:1.4116
Blade Style: Dagger
Blade Grind: Hollow
Finish: Satin
Edge Type: Plain
About Tom Claycomb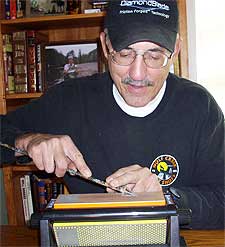 Tom Claycomb has been an avid hunter/fisherman throughout his life as well as an outdoors writer with outdoor columns in the magazine Hunt Alaska, Bass Pro Shops, Bowhunter.net and freelances for numerous magazines and newspapers. "To properly skin your animal, you will need a sharp knife. I have an e-article on Amazon Kindle titled 
Knife Sharpening #ad
 for $.99 if you're having trouble."
---