Connect with your social network account
Forum Information
You will earn 1.5 pts. per new post (reply) in this forum.

**Registered members may reply to any topic in this forum**


Posts: 17274
Joined: Mon Oct 30, 2017 5:16 pm
Contact:
Status: Offline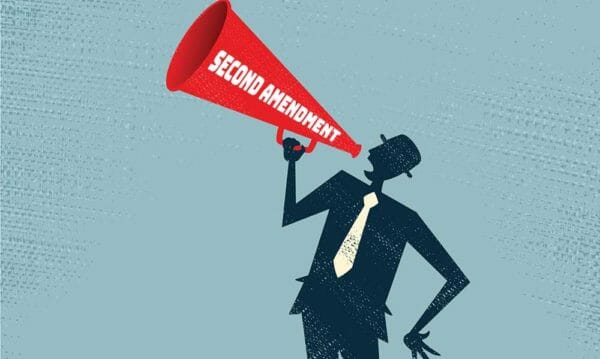 Second Amendment Activist Protest Activism Take Action
United States –
-(
AmmoLand.com
)- While many Second Amendment supporters look over how laws will affect them, the fact is gun laws don't just hit gun owners. The Federal Firearms Licensees – the gun dealers and manufacturers – also can be targeted by legislation that can infringe on the Second Amendment, or which can help protect Second Amendment rights. One such piece of legislation that does the latter is
S 1778
, the Federal Firearms Licensee Protection Act of 2019, introduced by Senator Lindsey Graham.
According to a release
by Senator Graham's office, the legislation is intended to address a rise in thefts from FFLs. In 2017, over 8,000 firearms were stolen in robberies and burglaries, per the Bureau of Alcohol, Tobacco, Firearms, and Explosives.  The release from Graham's office noted that in 2018, 193 firearms were stolen from South Carolina FFLs. Currently, stolen firearms are addressed under various provisions of
18 USC 922
. Under 18 USC 922(j), it is illegal to "receive, possess, conceal, store, barter, sell, or dispose of" any stolen firearm or ammunition. Under 18 USC 922(i), it is illegal to transport a stolen firearm across state lines. Under 18 USC 922(u), it is a federal crime to steal from an FFL. Graham's legislation adds more teeth to 18 USC 922(u), which currently has a 10-year maximum sentence per
18 USC 924(i)
. Violations of 18 USC 922(i) and 18 USC 922(j) also have 10-year prison terms. Under current law, a person who steals a dozen guns from a gun store in Indiana and takes the guns to Chicago to sell them could get up to 360 years in prison. Yet the release from Senator Graham's office indicated there are 8,000 reasons that the current laws aren't working. Graham's bill (co-sponsored by a number of other Second Amendment champions in the Senate) does two things: First, it ups the maximum sentence to 20 years in prison, not ten, for stealing from a FFL. Second, it also adds mandatory minimum sentences depending on whether the theft from the FFL is a burglary (three-year minimum) or a robbery (five-year minimum). In theory, these are good ideas. Tough sentences can be a deterrent, especially when word gets out about those who get hit with them. This was proven during
Project Exile
in Richmond, Virginia. That said, as is the case with the
STOP Straw Purchases Act
, the question is whether these laws will actually be used. There is reason for Second Amendment supporters to believe these will be used. Between 2014 and 2018,
ATF reported
that there were 2,404 burglaries and 153 robberies of FFLs.
According to the ATF
, there were 1,075 indictments for stealing from FFLs between January 1, 2013 and December 31, 2017. Thefts from FFLs affect the entire Second Amendment community. The stolen guns are often taken to be misused in crimes, some of which end up as fodder for Bloomberg and his stooges. But theft from FFLs also hurts not just the FFLs (who are making a living in helping Americans exercise their Second Amendment rights), but also those who seek to exercise their rights by buying firearms for the purpose of defending themselves (or other lawful reasons). Second Amendment supporters should take the time to contact their
Representative
and
Senators
and politely urge them to support this legislation. In addition, they should also take the time to send a thank-you note to Senator Graham and his co-sponsors for introducing legislation to address the literal theft of our ability to defend ourselves.
About Harold Hutchison
Writer Harold Hutchison has more than a dozen years of experience covering military affairs, international events, U.S. politics and Second Amendment issues. Harold was consulting senior editor at Soldier of Fortune magazine and is the author of the novel Strike Group Reagan. He has also written for the Daily Caller, National Review, Patriot Post, Strategypage.com, and other national websites.
---