Connect with your social network account
Forum Information
You will earn 1.5 pts. per new post (reply) in this forum.

**Registered members may reply to any topic in this forum**


Posts: 17274
Joined: Mon Oct 30, 2017 5:16 pm
Contact:
Status: Offline
B&T APC10
U.S.A.
–
-(Ammoland.com)-
SHOT show 2020 was full of amazing firearms, accessories, and memories. However, two firearms really caught my eye as the most interesting of the 2020 show. Rather unexpectedly, although welcomed with open arms, was the announcement of the Brugger and Thomet adding the venerable 10mm to the APC series of sub guns… and mic drop. My love for 10mm is so deep, it is similar to Taran Tactical's love for precious. For a very long time, I have wanted a readily available 10mm sub-gun, and that became a reality last year with CMMG's 10mm Banshee. Looks like lightning will strike a second time in 2020 with the APC 10. For those not familiar with Brugger and Thomet, they are a Swiss weapons manufacturer, and along with making some of the finest firearms available they also make parts for companies such as HK and Aimpoint. Their weapons truly live up to the idea of Swiss perfection, and function as smoothly as a Swiss watch. The APC is a direct blowback sub-gun with a hydraulic recoil dampening system, making it one of the most pleasant guns you'll ever shoot. In 2019 Brugger and Thomet were awarded the US Army's Sub Compact Weapons Contract for their APC9K variant. Forever cementing the B&T APC series as a benchmark for all sub guns to be judged by.
B&T APC10
B&T APC10Not one to rest on their accomplishments, B&T will be adding the best millimeter, 10mm, to the lineup for 2020. The APC series features fully ambidextrous controls on both sides of the gun for mag release, bolt release, and safety. There is also a non-reciprocating charging handle with little spring-loaded extensions on both sides of the gun. The grip is very good but can be swapped out with any regular AR-15 grip if you prefer something else. As I'm sure with the rest of the series, there will be several stock or brace options available. The coolest, in my opinion, being the fully collapsable one with rails going down either side of the weapon. Like the rest of the APC series, there will be 3 lugs on the barrel for ultra-fast suppressor attachment and removal.
B&T APC10
B&T APC10I think maybe the biggest feature for just about everyone out there is the fact that this will use readily available Glock mags, and the ever-growing numbers of aftermarket Glock mags in 10mm. I personally thought it would have been awesome for it to take the HK 10mm mags, but I'm sure I'm hopelessly alone on that sentiment. No matter what mags this takes, it is going to be possibly the biggest sub-gun launch for the year. I know that I'll be saving all my pennies and Nickels in hopes that I can get my hands on one.  Firm pricing wasn't available at the show, but like most things from Switzerland, I'm sure this won't be cheap. However, like everything Brugger and Thomet makes, they will deliver exceptional quality for your hard-earned dollar. I hope to get my hands on one of these for review later in the year, and I think it would be awesome to see how the 10mm translates in the APC platform. It would also be very interesting to see how well that hydraulic buffer system works with the 10mm round. It will be very exciting to have another 10mm sub-gun offering on the market.
About Alabama Arsenal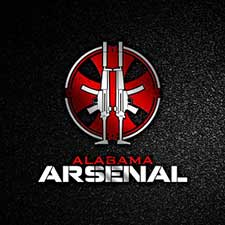 We conduct in-depth, unbiased reviews on firearms and accessories. We are made up of all different backgrounds to give you the best range of opinions, including military experience and gunsmith work. Be sure to check out our Facebook and Instagram. Unlike many channels out there, we make it a priority to respond to your comments. We enjoy engaging with our followers, and will gladly answer any reasonable questions you may have.
---