Connect with your social network account
Forum Information
You will earn 1.5 pts. per new post (reply) in this forum.

**Registered members may reply to any topic in this forum**


Posts: 17274
Joined: Mon Oct 30, 2017 5:16 pm
Contact:
Status: Offline
This is Boyd's Stocks new SPIKE CAMP. Named due to its lightweight construction. I see the backcountry elk hunters loving this one.
U.S.A.
–
-(Ammoland.com)-
This was the final day of the 2020 SHOT Show so I had to hit it hard to wrap up any loose ends before I flew out. The morning begun with a meeting with the legendary
Buck Knives
.
BUCK KNIVES –
I met with a long-time friend Stephanie and was also finally able to meet Rachel whom I have dealt with via email for a few years. The first knives that she showed me was their new GCK line (Ground Combat Knives) which they unveiled at the 2020 SHOT Show. They come in two blade choices-Spearpoint or Tanto. And for handles you can select either Micarta or G10. I favor the G10 mainly for looks but also because the grip is minutely better.
The next line they showed me was their 110 Slim line. Basically, the same format as their legendary 110 that put Buck on the map but it is a lot thinner profile. I like it. And then she showed me their popular Bantam line.
HEVI-Shot –
If you've never used HEVI-Shot, you'll be amazed. For turkey & varmint hunting non compare. At least nothing that I've tested. It is so effective that they even offer a .410 turkey load! He had three small bottles to show me the difference in the weight of #4 steel shot, #5 HEVI-Shot and #9 HEVI SHOT118TSS. The first lead bottle weighed 7.8 gr., the 2nd 12 gr. and the 3rd a whopping 18gr! I once did a comparison of turkey loads for Bass Pro Shops and HEVI-Shot smoked everyone else. They own the market.
BOYD'S STOCKS –
I stopped by to see Dustin and catch-up. They have the coolest stocks you can imagine. Even Dustin is not sure how many different ones they offer. They make laminated stocks and come in a trillion color options. I've tricked out a couple of Ruger 10/22's (and am about to do another one and will use another Boyd's Stocks). They have a new stock called the SPIKE CAMP, so named due to its light weight construction. It is a good-looking wood stock but light weight so it should become popular with backcountry hunters.
PENNSYLVANIA GUNSMITH SCHOOL –
This was an interesting meeting. Ron Spomer told me I needed to meet them and see what they were needing so we met in the NSSF room. Just like the industry is concerned about the shrinking number of hunters and shooters, Robert Thacker and Jamey Wojtaszek run a gunsmithing school and are worried about the shrinking number of students around the country choosing gunsmithing as a profession. In a Safe Shoot presentation on Thursday a presenter stated that shooting is the number 2 event in America, even ahead of golfing which surprised me. If this is true, then America is going to need an influx of gunsmith's in the very near future. The show is now over and it is time for everyone to get back home and get to work on all of the projects that they got lined up this week.
About Tom Claycomb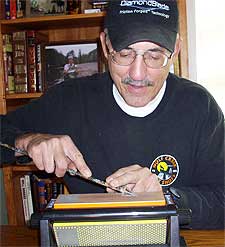 Tom Claycomb has been an avid hunter/fisherman throughout his life as well as an outdoors writer with outdoor columns in the magazine Hunt Alaska, Bass Pro Shops, Bowhunter.net and freelances for numerous magazines and newspapers. "To properly skin your animal, you will need a sharp knife. I have an e-article on Amazon Kindle titled 
Knife Sharpening #ad
 for $.99 if you're having trouble."
---