Connect with your social network account
Forum Information
You will earn 1.5 pts. per new post (reply) in this forum.

**Registered members may reply to any topic in this forum**


Posts: 17274
Joined: Mon Oct 30, 2017 5:16 pm
Contact:
Status: Offline
Disclosure: Some of the links below are affiliate links, meaning at no additional cost to you, Ammoland will earn a commission if you click through and make a purchase. Never again worry that defending your life will cost you everything. The USCCA is there to be your peace of mind partner. Discover the protection that kept Kerri Ann safe and home with her family:
Join-USCCA.
https://www.youtube.com/embed/6sPo2exdLc4
USA –
-(
AmmoLand.com
)- Another 100% true story about a responsibly armed USCCA Member, discover how Kerri Ann fought back when her home was invaded. Your home should always feel like a safe haven, and when your sense of security is threatened, the USCCA is there to help you get it back. Kerri Ann defended herself and her property… are you prepared to do the same?
Kerri Ann:
"It threw me back just how quickly I turned from victim to bad guy because all I was trying to do is defend myself, and if it wasn't for the USCCA, I probably would have been in prison." said Kerri Ann. I definitely feared for my life because I've never seen such rage in someone's eyes. He's blocking my only exit out. I can see freedom right there, but I can't get to it. He's pushed me back and I fell against the counter, I caught myself on it. He was blocking the doorway, my only exit. I don't know what he's capable of next and I feel like I'm trapped."
USCCA Lawyer Alan Diamond reports:
"I had the phone call from Kerri Ann. It was during Christmas and I remember she was very scared because the police were at her location and they were investigating her for a criminal offense? A felony in Florida. She understandably was very concerned, very fearful of going to jail or going to prison, and not knowing what was going to happen to her.
Kerri Ann:
"Once I drew my firearm? He put his hands up and backed away. So I was able to get out and when I got out, I called 9-1-1 and the Marine unit. The Marine unit were closer. So they were first on the scene. They asked me where my firearm was and I just turned and pointed to my hip and they took it [my gun]. They just took it off me. They told me I did everything right and they saw how upset I was when they arrived as they were first on the scene. However when the sheriff pulled up I had calmed down at that point. So I acted normal. So she [the sherrif] didn't seem to see me as the victim."
Alan Diamond:
"Initially, when we received the case. She was a victim of an assault and after law enforcement arrived and then more law enforcement arrived from multiple jurisdictions, the scene changed. For whatever reason, law enforcement started investigating her as the suspect and not as the victim anymore."
Kerri Ann:
"So I pulled out my wallet and grabbed the [membership] card for the USACA and I called the critical response team. Right away I was made to feel at ease." It just hit me like what if I didn't have the USCCA coverage? What would have happened? That's when I realized it was so much better to have it and the help of the USCCA response team, than not have anything."
Alan Diamond:
"I'm confident that having a lawyer with her on the phone, at the time it was happening, dealing with law enforcement on her behalf and intervening well before a grand jury or a prosecutor got involved in the case, was instrumental in keeping her from being formally charged or going to prison."
Kerri Ann:
"You hear all these horror stories with car insurance where you have a hard time getting access to your coverage and stuff like that. The USCCA was literally two questions and bam, dropped five grand down on the attorney. The attorney was just incredible and he was able to keep this event from going to the D.A.'s desk. Everyone, from USCCA and the attorney just made me feel at ease and made me feel safe. It made me feel like I'm gonna be OK."
Alan Diamond:
"In most criminal cases occur. The person is arrested. Then they go out and seek an attorney that can help them get out of the trouble. With USACA you already have an attorney that's prepared and able to deal with a self-defense situation. With Kerri-Ann, not only did she have that relationship and was able to get an attorney literally while the police were still on the scene, but she didn't have to worry about the financial aspect of that. USACA is wonderful in that you not only have an experienced attorney, but they pay for it. They cover all the expenses so that the member can just focus on getting out of trouble and avoiding any kind of prosecution."
Join USCCA
Thank you all for your continued support. Members like you and Kerri Ann are the reason we get up every morning to work towards
making your Membership the best it can be. We want to make sure you have the education and training you need to confidently carry and defend yourself, but also the legal protection to support you in a worst-case scenario. Your support and trust mean the world to us. The USCCA's mission is to Educate 10 Million Gun Owners, Legally Protect 1 Million USCCA Members, Stop 20,000 Crimes, and Save 1,000 Lives. Like and share this educational and informative video pages. Together we can Save Lives. Ready to join our mission? You can activate your membership in less than 5 minutes and be protected by the full power of the USCCA Self-Defense SHIELD:
USCCA-Membership
Not ready to join? You can learn more about the USCCA and how we're trusted by over 285,000 responsibly Armed Americans by contacting our Wisconsin-based Member Service Agents at 844-265-1103 or visit us online at USCCA.com! If you're a responsible gun owner, we'd love to have you subscribe and join us!
Continue Your Training:
About USCCA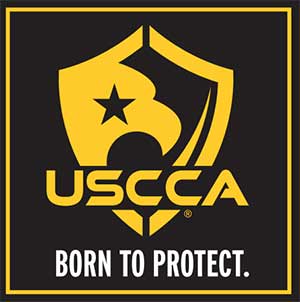 The U.S. Concealed Carry Association (USCCA) provides self-defense education, training and legal protection to responsible American gun owners. The USCCA is the largest and fastest-growing association whose sole focus is the responsibly armed American.
---