Connect with your social network account
Forum Information
You will earn 1.5 pts. per new post (reply) in this forum.

**Registered members may reply to any topic in this forum**


Posts: 17274
Joined: Mon Oct 30, 2017 5:16 pm
Contact:
Status: Offline
Completed Sharps Bros and rainier Arms Build
U.S.A.
–
-(Ammoland.com)-
Last year I assembled an AR with a little help from Rainier Arms and Brownells. I started on the
lower receiver
with a Sharps Bros Overthrow and
finished up
with a Rainier Arms UltraMatch Billet Upper (MOD 3), Aero Precision Atlas S-One and a 16″ Brownell's B-TAC barrel. After my initial build and some testing, I made a few changes. I swapped out the original brake for a Ghost Wind 5.56 brake by American Manufacturing so I could run the Ghost Wind suppressor on here and decided to send the rifle out for a custom Cerakote finish courtesy of
Nevada Cerakote
. What is Cerakote? In case you have been living under a rock the past few years, Cerakote is a ceramic based finish that can be applied to metals, plastics, polymers, and wood. The unique formulation used for Cerakote ceramic coating enhances a number of physical performance properties including abrasion/wear resistance, corrosion resistance, chemical resistance, impact strength, and hardness. Each of these properties is rigorously tested to guarantee that Cerakote products remain at the forefront of the ceramic coatings market. Cerakote ceramic coatings utilize state-of-the-art technology to out-perform any competitive coating in both laboratory settings and real-world applications.
Sharp's Bros Jack Lower Receiver with the Armaspec XPDW Stock, the magazine well was Cerakoted by Nevada CerakoteThere are a lot of shops offering Cerakote these days and I try to support local small businesses whenever I can, so I took my rifle to Russ Bacon at
Nevada Cerakote
. Nevada Cerakote We have been faithfully using Nevada Cerakote for a number of years. The shop is about 90 minutes from my home, but their work is so good that I would ship it halfway across the world if I had to!
Nevada Cerakote did the laser stipple and bronze finish on a Grey Ghost G43 build I finished up in 2018.
More recently, Nevada Cerakote performed the laser stipple and grey Cerakote finish on a Rival arms Glock project. build from 2019.My one problem with Cerakote is there are so many ways you can go with it. From natural finishes replicating basic black, grey, OD, or tan to camo patterns or any artistic design you can envision. Compounding this is the fact that Russ is as much an artist and craftsman as he is a gunsmith, so I often go on information overload.
Nevada Cerakote's laser stippling and refinish on an early Grey Ghost Precision Glock.I knew I wanted the Spartan helmet on the lower in bronze, but really wanted to do something with the rest of the rifle and took my inspiration from what I love most: The American flag. When you have a dozen or so "black rifles" you can afford to take a chance on a flashy color scheme, can't you? Old Glory would be the rest of the theme and I had seen Nevada Cerakote offer this pattern on firearms they coated for Axelson Tactical, Aero Precision and other manufacturers and customers. I considered the vibrant red, white and blue for half a second and decided against it in favor of a distressed, battle-worn finish.
Axelson Tactical Rifle, camo coating by Nevada Cerakote.I dropped the rifle off and told Russ to take his time to work his magic.
The American Spartan by Nevada Cerakote!The end result exceeded my expectations. It was as if my simple idea had magically come to life, courtesy of Nevada Cerakote's artistry. Take a look at the "before" photo.
A good looking rifle, no doubt, but it screamed for something else!Notice the initial reddish selector. On a black rifle, a little drop of color can make a cool accent. However, after the "Captain America" paint job, it stuck out like a sore thumb. I do not stand in an artist's way, so when I got the call, I said: "Do what you need to do."
Nevada Cerakote's American Spartan, close up.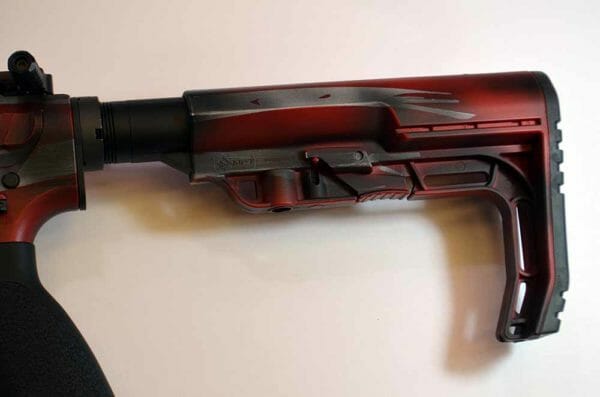 Stock finish by NV Cerakote
American Spartan by Nevada CerakoteBesides the quality paint job, this has become one of my favorite rifles to take to the range. It doesn't hurt that it gets a lot of attention and one of these days Nevada Cerakote may do a special pistol for me to go with it. Check out their website and social media, most importantly their
Instagram feed
. Their prices are reasonable, the work is outstanding and their laser engraving and stippling services are some of the best in the business.
About Mike Searson
Mike Searson's career as a shooter began as a Marine Rifleman at age 17. He has worked in the firearms industry his entire adult life as a Gunsmith, Ballistician, Consultant, Salesman, Author, and was first certified to teach firearms safety in 1989. Mike has written over 2000 articles for several magazines, websites, and newsletters, including Blade, RECOIL, OFF-GRID, Tactical Officer, SWAT, Tactical World, Gun Digest, Examiner.com and the US Concealed Carry Association as well as 
AmmoLand Shooting Sports News
.
---