Connect with your social network account
Forum Information
You will earn 1.5 pts. per new post (reply) in this forum.

**Registered members may reply to any topic in this forum**


Posts: 17274
Joined: Mon Oct 30, 2017 5:16 pm
Contact:
Status: Offline
General Prayut Chan-o-cha, Prime Minister, Minister of Defense and head of Royal Thai Police responds to killings at Terminal 21 Korat mall. (
Royal Thai Government/Facebook
)
U.S.A. –
-(
Ammoland.com
)- "Thai Gunman Who killed 26 in Rampage Shot Dead in Mall,"
the Associated Press reported Saturday
. Another 57 people were wounded in a standoff at Terminal 21 Korat initiated by a soldier said to be "angry over a financial dispute," who reportedly killed two people on a military base before driving to the mall. It took police sharpshooters 16 hours to put the killer down as terrified, unarmed shoppers fled, ducked for cover and "ran to hide in toilets." Television footage showed the attacker carrying "what appeared to be an assault rifle." And it was the second "high profile mall shooting" in a month, the prior one committed by a masked  school director "carrying a handgun with a silencer [who] killed three people, including a 2-year-old boy, and wounded four others as he robbed a jewelry store." As the anti-gunners say here when such atrocities are committed, "something must be done." In the cases of the Thai mall shooters, something has been done, including everything Democrat politicians and gun-grab groups have been loudly demanding to be imposed on a state and national level here. Thailand's got it all. "The regulation of guns in Thailand is categorized as restrictive," GunPolicy.org, a project of the
Sydney School of Public Health advises
. We need to stipulate up front that this effort is being bankrolled by globalist citizen disarmament interests, including the United Nations, but that doesn't invalidate the reporting of restrictions, all backed with extensive source citations. Instead, it makes using the documentation "bullet-proof" from challenges by the antis, since we're using their data. So we find that "In Thailand, the right to private gun ownership is not guaranteed by law." We find "In Thailand, civilians are not allowed to possess automatic and semi-automatic rifles," that is, weapons the mall killer, being part of the government, reportedly had no problem getting his hands on. If you want a handgun, a rifle or a shotgun, citizens have to overcome several prior restraints, including satisfying the government that they have a "genuine reason" for the license need to obtain a firearm and its ammunition (one license per gun). They need to pass a "universal background check" that includes "income" among its considerations (like "gun control" here, poorer citizens are most affected). And there are "red flag" disqualifiers like "domestic violence … Where a past history or apprehended likelihood of family violence exists, the law in Thailand stipulates that a gun license should be denied or revoked." "In Thailand, the law requires that a record of the acquisition, possession, and transfer of each privately held firearm be retained in an official register," GunPolicy.org continues. We also find that in Thailand they have storage laws and transit laws. Open carry is banned, and if a citizen wants to carry concealed, they must "apply for permission to carry a firearm … to the officials who are competent to issue such license." Think of it as "
Santa Clara carry
." So
leave it to the media
to present Thailand as "awash with easily obtainable firearms, featuring one of the highest gun homicide rates in Asia." To back it up they cite "the US State Department's Bureau for Diplomatic Security wrote in its 2013 safety report for overseas staff: 'Thailand has a fervent gun culture on par with the United States and has become a world leader in firearms-related homicides.'"
Who headed State back then
? With the headline and the lede having established that murder with guns is comparatively high, we have to venture deeper into the report to find that the violence is being perpetrated by those who ignore all those "restrictive" laws. Millions have said the hell with approvals and licensing and registration and permits. GunPolicy.org estimates there are over four million "illegal" guns in Thailand but admits it really doesn't know for sure. Plus there's a Malay-Muslim insurgency with armed rebels, "as well as the mafia syndicates across the country." And then there's the proliferation "along the Thai-Myanmar and Thai-Cambodian border," as well as the claim by "experts" that "military, police and paramilitary officials not only have easy access to such weapons but have also been known to sell these to non-state officials." In other words, "gun control" doesn't and can't work, because the bad guys will always find whatever workarounds they want. And it's not hard to see the parallels here, especially with the way the Democrats, in addition to demanding disarmament, also ensure our borders remain porous and that foreign populations with priorities inimical to founding principle established in the Constitution are being brought in and embedded into communities throughout the Republic. Just like our Democrats, Thai officials point to more measures that will have no effect on those causing the problems. They're calling for more registration and "introducing so-called ballistic gun data." When those don't work, and they won't, they'll be back demanding more.
About David Codrea: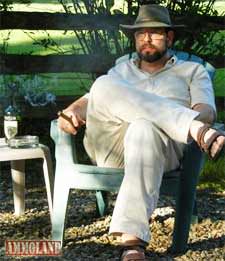 David Codrea is the winner of multiple journalist awards for investigating/defending the RKBA and a long-time gun owner rights advocate who defiantly challenges the folly of citizen disarmament. He blogs at "
The War on Guns: Notes from the Resistance
," is a regularly featured contributor to
Firearms News
, and posts on Twitter:
@dcodrea
and
Facebook
.
---