Connect with your social network account
Forum Information
You will earn 1.5 pts. per new post (reply) in this forum.

**Registered members may reply to any topic in this forum**


Posts: 17274
Joined: Mon Oct 30, 2017 5:16 pm
Contact:
Status: Offline
RS Regulate AK-303 Full-Length Rail – Brownells
U.S.A.
–
-(Ammoland.com)-
The problem with the AK you say? Optical mounts and options. Frankly, you'd be right about that. I remember the thoughts zipping through my beanie the first time I bought one of the original Russian surplus Night Vision scopes – the 1PN58 if my memory serves me correctly. I was a bit dumber then and saw it advertised someplace, made a remark about it openly, and was egged on my buddies to "buy it or you ain't a man…" Who wants to be less than a man, right? I bought it without paying any attention. It came in, I opened this stinky green little tackle box they customarily were housed in, and inside was this foreign-looking gray scope that appeared to attach to the side of a weapon. "This isn't what I ordered," was the comment I remember blurting out, to which my right-hand man, Dave, remarked, "You wanted Russian Night Vision for your AK? That's what you get…" Ever since then I've been more discerning about what I order and how I intend on attaching it to my AK variants. We need to understand some things first. Consider the mounting problems associated with any AK akin to the venerable 870 Remington. The original design of both firearms places your eye down low so you sight right across the top of the weapon. This is fine if you never intend on adding optics or modifying much on the weapon. When do you, however, some challenges and additional considerations apply. The top cover of any AK can be removable or riveted into a hinge configuration. Only when the front of the top cover is hinged in place would I be willing to mount any optic to the cover. Even then I don't like it much. When these parts move around, you simply cannot count on repeated shot placement. Railed dust cover replacements can work, but they move, so keep that in mind. I firmly believe railed gas tubes, fall into this category as well. Sure, they can work, but they aren't designed or affixed to the weapon in a truly solid and repeatable method, so your zero is going to wander. For close up work, you might be fine, but nobody wishes to have their point of impact shift all over the place. Know what you're potentially headed into if the mounting method moves on you. There are modified side mounts that aren't too bad. While some are pretty cheap and look like an afterthought, there are some that are darned solid and provide stable platforms to mount your optics. I know it shouldn't boil down to price, but if you can buy an optical side mount for your AK for $16, you haven't purchased much, so keep that in mind.
Midwest Industries
, Arsenal,
RS Regulate
, and a few others offer some solid products in this arena.
MIDWEST INDUSTRIES, INC. – AK-47/74 SCOPE MOUNTI have witnessed people at the range using barrel mounted optics. While they can be stable, most of those mounts are pretty rinky-dink. When you attach anything to something round and lift it way up in the air, it's as if you're begging to see how quickly you can bend, move, rotate, or tweak it. These just aren't good first choices for optics mounting folks. There is a saddle-style mount out there as well. It looks eerily similar to those you see on shotguns like the 870. The theory appears to have merit, but I haven't had a customer ask me to install one yet, so my personal experience with this mount is limited to that of strictly academics. I tried a few of the rear sight rails and if you can get them really tight, they aren't too bad. You're essentially removing the rear sight ramp and installing some picatinny rail that hangs after over the cover. I wouldn't attempt to mount much of a scope to one of these, but something small like an Aimpoint Micro, Zeiss Z Point, Vortex Optics Razor, or Trijicon RMR can work well. If your sight is low profile and small you can make this mounting system work. The bigger your optic is, the more trouble you may run into, so be cognizant of that limitation. The evolving accessories like the forward rails that replace the handguards are really good too. Most can be affixed in a really solid fashion, but you add a bit of weight out front. Keep in mind there is no such thing as 'free lunch' when we add accessories like this. You're taking off paperweight handguards and adding something, even if it's aluminum, that can be a tad heavier. That isn't truly the problem. The problem comes with what you bolt on the railed handguards, as you are adding more weight further away from your body/core. When you use a railed handguard like those from Midwest Industries, Troy, Arsenal, MAGPUL, or Texas Weapon Systems, you can mount or configure just about anything you need. If you're running a scope though, keep in mind your eye relief, and consider a 'scout' scope or the likes. There's something for everyone out there and you can pick up most of this stuff at Brownells if you're shopping online, but you'll need to carefully weigh your options to find what works best for you and your application. Also, don't forget that you want a good cheek weld so your sight easily and repeatedly down your optics bore, so your choice of stocks will impact this greatly.
About Michael Ware: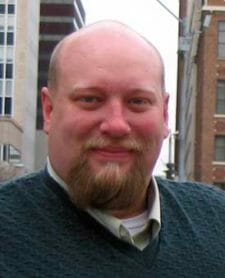 Michael is a Christian husband and father to two children. He owns and operates Controlled Chaos Arms, a premier custom weapons shop in the Midwest. He serves as Chairman of the board of Directors at the Iowa Firearms Coalition. The pursuit of truth drives him in research and his writing. Michael enjoys shooting, hunting, and fishing throughout the Midwest and Rockies. An avid outdoorsman and tireless supporter of all Second Amendment virtues, he can be found in his gun shop, in a tree stand with his kids, or on Capitol Hill lobbying in support of Freedom and Liberty at any given time.
---