Connect with your social network account
Forum Information
You will earn 1.5 pts. per new post (reply) in this forum.

**Registered members may reply to any topic in this forum**


Posts: 17274
Joined: Mon Oct 30, 2017 5:16 pm
Contact:
Status: Offline
Disclosure: Some of the links below are affiliate links, meaning at no additional cost to you, Ammoland will earn a commission if you click through and make a purchase. Never again worry that defending your life will cost you everything. The USCCA is there to be your peace of mind partner. Discover the protection that kept Kerri Ann safe and home with her family:
Join-USCCA.
https://www.youtube.com/embed/Xw6Plcefl9E
USA –
-(
AmmoLand.com
)- I want to tell you a little bit about a friend of mine named Dawn and her story. Now, Dawn's Story begins in 2006 when out of the blue, a guy that she used to date started calling her and blowing up her phone over and over and over to the point of harassment. Dawn wasn't quite sure what was going on or what to do with the situation. And unfortunately for her, it became a nightmare. Six years of relentless stalking by this man. And for Dawn, this was not a time when she was involved with firearms. In fact, her method of operation was hiding. I think a lot of women can relate to that. To try to get away from her stalker instead of standing up to him or getting self-defense training. She chose to basically close the doors and hideaway. Unfortunately, the stocking was so bad that she lost her job and lost those full six years of her life. Thankfully, he was put away, finally, for two felony counts of aggravated stalking. He wasn't supposed to get out of jail until 2017. After he went to jail, Dawn was basically a new woman, still scarred by the event, but challenged by it as well. Knowing that she never wanted to experience this kind of trauma again. So what did she do? She got training and she went out and bought her very first firearm. Fast forward to just two years ago. Dawn gets a call out of the blue from a detective warning her that her stalker was released two years early with no warning. Now, Dawn had a choice she could have gone back to her mode of operation from years ago. She could have gone back to hiding. But instead, she chose to live her life with her firearm on her side. Now, I would like to share a couple of quotes directly from Dawn so you can really feel and relate to all that she was going through and how she feels now. "Women are becoming their own heroes and are refusing to be victims. And we're seeing the number of women getting concealed carry permits growing substantially. This is a strange and amazing confidence that comes with knowing you got this. No matter what you got, this might be not to mention the average response. Time for law enforcement is seven minutes. And a lot can happen in seven minutes. With me, it was time to put my money where my mouth was. I will not live like that again. I will continue to talk about it and live out loud and if need be. I will be my own hero." Now, Dawn's story is definitely one of resilience and triumph. To hear more stories like hers and to get great information you can like and share this video
and even subscribe
. Until then, stay safe and be well-armed.
Join USCCA
Thank you all for your continued support. Members like you and Kerri Ann are the reason we get up every morning to work towards
making your Membership the best it can be. We want to make sure you have the education and training you need to confidently carry and defend yourself, but also the legal protection to support you in a worst-case scenario. Your support and trust mean the world to us. The USCCA's mission is to Educate 10 Million Gun Owners, Legally Protect 1 Million USCCA Members, Stop 20,000 Crimes, and Save 1,000 Lives. Like and share this educational and informative video pages. Together we can Save Lives. Ready to join our mission? You can activate your membership in less than 5 minutes and be protected by the full power of the USCCA Self-Defense SHIELD:
USCCA-Membership
Not ready to join? You can learn more about the USCCA and how we're trusted by over 285,000 responsibly Armed Americans by contacting our Wisconsin-based Member Service Agents at 844-265-1103 or visit us online at
USCCA.com
! If you're a responsible gun owner, we'd love to have you subscribe and join us!
About USCCA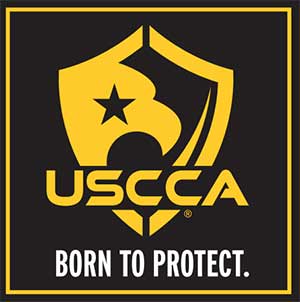 The U.S. Concealed Carry Association (USCCA) provides self-defense education, training and legal protection to responsible American gun owners. The USCCA is the largest and fastest-growing association whose sole focus is the responsibly armed American.
---