Connect with your social network account
Forum Information
You will earn 1.5 pts. per new post (reply) in this forum.

**Registered members may reply to any topic in this forum**


Posts: 17274
Joined: Mon Oct 30, 2017 5:16 pm
Contact:
Status: Offline
Mission First Tactical Glock 43x/48 IWB Holster
U.S.A.
–
-(Ammoland.com)-
Many months ago, Mission First Tactical's Vice President sent a box of review goods, and he tossed a few extra items in that he wanted some feedback on.  One was
MFT's Glock 43x/48 IWB
Appendix holster.  Having used a couple Mission First Tactical holsters in the past, I had a feeling I knew what to expect.  One problem, I still didn't have the Glock 43x I'd wanted for so long!  Having this and a few other G43x review products piling up, I bit the bullet and traded in my beloved Glock 19.  In the name of science!
Mission First Tactical Glock 43x/48 IWB HolsterThe MFT IWB-A is a "minimalist" design, but that doesn't mean it's feature-lite.  Here's the technical breakdown:
Claw to minimize printing (For Right Handed Shooters Only)
Appendix – Inside the Waistband IWB
Ambidextrous – Wearable Right or Left-hand
Includes 1 ½" Belt Clip
Ideal for Concealed Carry
Adjustable Cant 0 – 20 degrees
Audible Passive Retention
Superior .08 Boltaron material
Laser CAD Design for Perfect fit, Smoother Draw, Less Wear
Abbreviated Sweat Guard
Quality Screws, Rivets and Attachments
Sculpted for RMR (reflex red dot sights)
Tall Sight Channel – Open Muzzle
Molded, Trimmed, Assembled, Buffed by hand
Custom Patterns & Colors- 2-week delivery
Made in the USA at MFT facilities
Lifetime Warranty
Ok, for a little piece of material that barely weighs a few ounces, that's a long list.  One feature that sets MFT's holster apart from many others is their use of The CLAW.  This is a little flair of material that leverages against your inner waistband to kick the gun's handle in towards your body.  It takes up a bit more space inside of your pants but makes appendix carry more successful.
Mission First Tactical Glock 43x/48 IWB HolsterThe MFT holster slips easily inside your waistband and has a belt clip that retains it.  This method is simple and works well with 1.5″ belts.  Having the cant adjustable 20° is mighty nice.  Given the wide variety of shapes and sizes, humans come in, having some adjustability is a keen feature.  It doesn't take long to give it a quick adjustment to better suit your draw angle.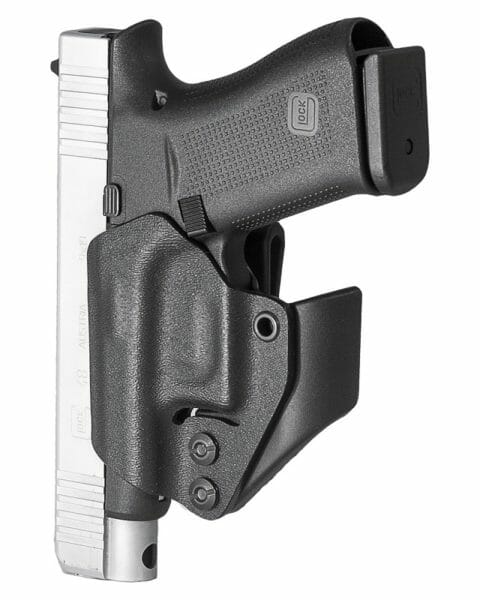 Mission First Tactical Glock 43x/48 IWB HolsterWhile wearing MFT's holster is an "all-day easy" experience, getting started is a mite tricky.  Normally, I slip my holster into place and slide the handgun home.  With this minimalist design, you need to holster the gun before putting the holster into place.  MFT states that any time you need to holster your handgun, you need to remove the holster, snap the gun back into it and then you can put the holster back on.  No reholstering while wearing the minimalist.  During the first "gear up" of the day, it's really not a big deal.  Doing draw practice at the range?  It gets a lot more time consuming, but still well worth it obviously.  I can imagine a couple scenarios where a quick reholster would be advantageous, but the likelihood of it being an issue is for each shooter to discern. Here's a couple practice draws with the MFT holster.  Yes, I missed one shot.  No, I don't edit those out!
https://www.youtube.com/embed/skJbXmg85g0
When it all boils down, I only ask three questions of a holster.  1.  Is it comfortable?  Yes!.  2.  Does it conceal well?  Definitely.  3.  Can I draw quickly?  Definitively.  I'm no faster nor slower from this as from any of my other routinely-worn concealment holsters.  MFT has a simple and effective little piece of equipment here, well worth your time to check out.  MFT's G43x/48 IWB holster runs 
$34.99
.
About Rex Nanorum
Rex Nanorum is an Alaskan Expatriate living in Oregon with his wife and kids. Growing up on commercial fishing vessels, he found his next adventure with the 2nd Bn, 75th Ranger Regt. After 5 tours to Afghanistan and Iraq, he adventured about the west coast becoming a commercial fisheries and salvage SCUBA diver, rated helicopter pilot instructor (CFII) and personal trainer, before becoming a gear reviewer and writer." –
Rex Nanorum
@Rexnanorum
---